Launched just before lockdown in December, Sussex Pass showcases the produce of Sussex and Kent
while supporting local makers, growers and communities.

Situated in Wadhurst village, in the picturesque heart of the Weald, Sussex Pass is reopening on Wednesday 14th April with a brand new terrace and garden, a perfect location for locals, visitors and staycationers to taste the county's incredible food and wine and the passion of the producers who live there.

Founder Sam Maynard (Hotel Du Vin, Gallivant, The Beacon) and Head Chef Adam Sear, have created a food
offering that draws from the seasonal bounty of this beautiful part of the country and celebrates it.

The team have spent the past few months of closure creating a beautiful outdoor space that lends itself to both fine dining and family get-togethers.

The new back heated terrace is the perfect spot to enjoy a brunch complete with a Big Green Egg barbeque.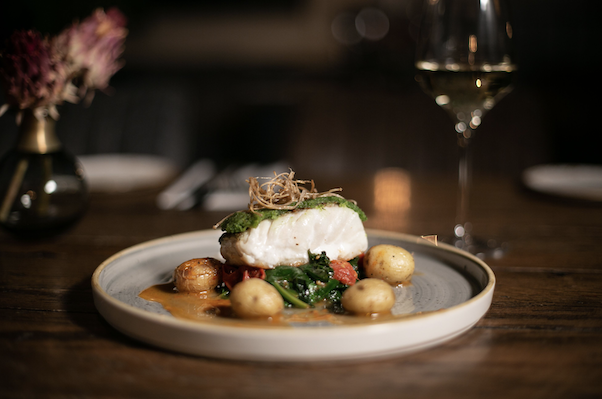 Priced at £20 per person, guests who book full size Egg for a two- hour slot, will be given a selection of locally sourced meat and fish, pre-prepared and ready to cook on the Barbeque, along with complementary sides and vegetables.
A whole lobster can be added for £40 or a 1kg ribeye for £42, and vegetarians are also catered for.


Adding to the new outdoor additions to the brand, a new farm, Sussex Patch, situated a couple of miles
away, will become Head Chef Adam Sear's main source of organic, seasonal fruit and vegetables, focusing
especially on local varieties.

Later in the summer, the team plans to create a family farm experience, where children can pick the produce before seeing it cooked in front of them.

Finishing off the meal guests can choose from a bespoke Sussex cheese trolley, featuring all the finest
cheeses from the surrounding area, all expertly matched with Sussex wines and Ports.

Examples from the Sussex Pass Spring menu include:
• Curried lamb quails scotch egg, date chutney – £8.5
• Paley farm pork cheek rillettes, crackling, honey mustard dressing, apple puree – £ 8
• Pan roasted bass, clams, salsify, citrus foam, seaweed – £18
• Squid ink tagliatelle, dikon puree, baby squid, mussels, parmesan- £17.5
• Asparagus, samphire, quinoa, toasted almond, red chicory, pickled cucumber- £16
• Hibiscus Pannacotta, poached rhubarb, honey tuille – £7

Sussex Pass also has a new brunch menu that features dishes like boneless buttermilk chicken thighs with
potato pancakes and a tomato salsa and baked gypsy eggs with homemade bread plus charcuterie and cheese boards serve as bar snacks.
The High Weald is an Area of Outstanding Natural Beauty and is located in the South-East of England. A medieval landscape, with rolling hills and iconic architecture – some of England's most beautiful Counties are located here, such as Kent, East Sussex and Surrey. With a wealth of vineyards at its disposal, the High Weald is on many bucket-lists going into Summer 2021.
Instagram: @sussex_pass Facebook: @sussexpass
Wednesday – Saturday: lunch: 12pm-2.30pm, dinner: 5.30pm -8.30pm, Sunday 10am-4pm
SUSSEX PASS
At The White Hart
High St, Wadhurst TN5 6AP
01892 782850