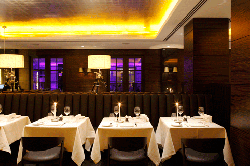 They don't do anything by halves in Westminster, which I quickly worked out when attempting to find the newly-opened Intercontinental on Broadway. In true- understated fashion, bemused tourists and un-amused Londoners were being serenaded by a full brass band to mark the occasion of the luxury hotel's Thursday night launch party. (Needless to say I found it quickly after that.)
Located in a historic 19th Century building that was once Queen Anne's Chamber opposite St James's Station, and with a freshly-renovated interior with its towering vases of exotic flowers, expanses of marble and legion of eager staff, the hotel is well-placed to bring in the hoards of wealthy-ish tourists to which it will surely be marketed. It's nice enough (and probably nicer still when not loaded with us freeloading types chasing trays of champagne and canapés around the room).
I find there's rarely any point in trying to garner any reliable impression from a launch party, so the best thing to do is consume as much of the food and drink as possible. To this end we tried one of each of the two excellent cocktails on offer courtesy of Portobello Road Gin whilst subtly rubbernecking (Jerry Hall turned up, as did many fabulously-dressed well-to-do-ladies of a certain age). 
The primary draw for most London residents will be its restaurant, The Blue Boar Smokehouse and Bar – serving up American soul food classics (a trend that seemingly refuses to budge). Taking his inspiration from the top US'pit masters', Head Chef Jon Ingram has created a testosterone-fuelled menu of slow-cooked meat, charcoal and wood-grilled steaks and other such meaty offerings. He's even devised a signature 12 spice rub honed from years of marinade-experimentation.
Whilst the launch was limited to far fewer dishes, we still managed sticky scarlet ribs, a plate piled with tangles of slow-cooked pork and smoky beans, springy sage and onion rolls, and golden nuggets of confidently-spiced fried chicken. All good, all convincing enough to make me want to go back and try the full menu.
And, if the definition of a triumphant launch party is having its attendees walk away slightly sozzled and smelling of barbeque sauce to the strains of'When The Saints Go Marching In' on the trombone – I'd call it a pretty successful night.