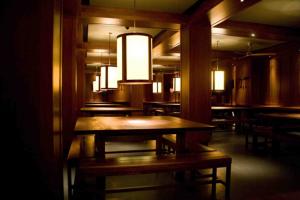 This Wednesday saw the launch of the brand new Busaba Eathai restaurant in London's trendy Old Street. It's the first opening outside of the West End for the popular Busaba Eathai chain of casual Thai dining venues and it looks set to be a success.
Decor wise I was expecting a more exuberant vista for my eyes to feast on; in my imagination I had pictured lush green plants and carved wooden sculptures although, in reality it was far more subtle and modern than that.
There were large solid rectangular dark wood tables and long benches to match arranged in a grid like pattern across the restaurant floor. Above each table was an oversized watercolour paper lampshade which gave off a gentle light and made all the guests face's look like those religious figures you see in Renaissance paintings.
On the food front we were treated to a never ending parade of exotic looking canapes that included spring rolls, fish soup, som tam salad and of course the ubiquitous Thai fishcake which the people of Britain seem to have taken into their hearts so fondly. The som tam salad is actually a speciality of Busaba Eathai, made with green papaya, dried shrimp and cherry tomato. It was delicious and fresh tasting and actually quite refreshing after some of the other dishes.
One of the things that I think will really work in favour of Busaba Eathai is it's prominent position right on Old Street next to many of the night-time haunts that trendy arts students and 'meedja' people frequent. Add to this the fact that it's open until 11.30pm and you've got a prime eating destination that's ideal for re-fueling at the mid stage of a Saturday night, when you're out but yet to go 'out-out' to live it up at clubs with loud music and sweaty bodies.
Busaba Eathai, 319 Old Street, London EC1V 9LE, 0207 729 080