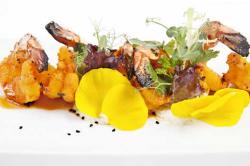 Chakra opened in November, marking the celebration of the Hindu festival of light, Diwali. and is situated on the border of Notting Hill and Holland Park
Award winning Chef Andy Varma has journeyed across India to discover artisan recipes of royal kitchens and Chakra's interior designed by Dezzi McCausland, runs with this theme in mind and celebrates Indo-artisan cuisine. Cream and dark mahogany Chesterfield banquette seating, vintage cigar style panelling, Madras Ice-cream leather and Oak Colchester flooring has been combined with a rustic stone element and warm gold lighting.
Chef Andy Varma aims to re-create an artisan and traditional way of 'running' the food from pan to table. With a unique menu designed to share, the menu combines seven schools of cooking, each containing recipes that have evolved throughout the centuries. Typically, 1 or 2 dishes should be ordered to share from each section, to try different cooking preparations and techniques or 'schools' of Royal Indian origins.
Foodepedia will be checking it out soon
157 – 159 Notting Hill Gate,

London, W11 3LF hwww.chakralondon.com