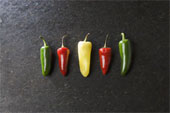 After the success of the cheap-and-cheerful Benito's Hat in Goodge Street, the latest budget burrito emporium goes by the name of Chilango and boasts an enviable location in the heart of the City.
It is the brainchild of joint owners, Eric Partaker and Dan Houghton, who are determined to improve the choice of Mexican restaurants in the capital by serving up traditional street food at bargain prices. They toured Mexico and North America for two years to discover new recipes and authentic flavours that now feature on Chilango's menu.
Freshness and simplicity is the key, so the menu is short and all the food is prepared and cooked in the restaurant's open kitchen each day. The guacamole, for example, is hand-mashed several times day and the chicken is marinated overnight in a secret recipe. All the ingredients are then laid out for customers to choose their own custom-made meal to either eat-in or take-away.
They opened on 24th October and offered free burritos to anyone who brought along their business card. It seemed like a fair trade to us so we headed to Fleet Street at lunchtime, only to find that reaching the front of the queue would have taken at least an hour. That said, those who did make it to the front were raving about the fresh ingredients and excellent guac. We'll be back to try the tacos!