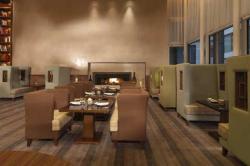 The Crowne Plaza London -The City, has announced the completion of its brand new Lobby Café. Replacing a lounge area, the lobby has undergone a complete facelift resulting in a stylish new contemporary look.
The new sassy lobby has completely transformed the feel of the hotel. Now a destination for guests to socialise, or meet for business, not only has the hotel something proud to offer its guests, bu the area's dearth of smart cafes has meant the renovation is being well received amongst the hotel's local business community.
In terms of design, the feel is intended to be quite abstract and almost organic with the historical theme of the City playing a large part of the design. Soft tartan fabrics, interwoven with solid colours and the careful employment of unobtrusive lighting dismisses the reality that one is sitting in a hotel lobby. A large white wall displaying a map of the world, is the lobby's focal point. And for guests who desire privacy, the clever design has created the feel of private booths – perfect for intimate meetings.
Besides a good selection of light bites and vegetarian options, the menu plays strongly on its close proximity to Smithfield Market, offering a fine selection of traditional meat dishes. The Café's signature dish of Scottish Roast Rib Beef, has been sourced from one the country's finest beef suppliers – Castle of Mey, reared in the North Highlands of Scotland, which adheres to a long tradition of producing the highest quality meat.
The menu reflects today's market needs of good quality food and good value. Dishes include, Sliced Cured Air Dried Ham, Honey Truffled Figs and Shaved Parmesan, priced at £5.85; Free Range Fine Herb Omelette served with a Green Salad £5.60; or the Roasted Rib of Scottish Beef with Yorkshire Pudding, is a reasonable priced £14.95. The Lobby Café is open for all day dining, commencing for breakfast from 6.00 am up until 10.00pm.
The Lobby Café has been designed and overseen by Interior Designer Panudda Foers, of FYR Designs and formerly of David Collins.