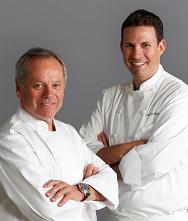 Chef and restaurateur Wolfgang Puck has made his restaurant debut in Europe with CUT at 45 Park Lane. Located in Dorchester Collection's new Mayfair hotel, CUT at 45 Park Lane mirrors the award-winning original CUT in Beverly Hills.
The menu offers contemporary interpretations of the classic steak restaurant. It features the widest selection of beef available in London, as well as hand-selected prime dry- and wet-aged beef from Creekstone Farms in the United States, grain-fed cuts from Casterbridge in the United Kingdom, plus Wagyu beef from Australia, Chile and New Zealand.
The signature cuts of beef: filet, sirloin, ribeye, rib-chop, Porterhouse, bone-in New York and bone-in filet are grilled over hard-wood and charcoal and then finished under a 1200° broiler to impart a truly unique flavour and texture. Meat cuts are offered in smaller tasting portions as well, and served with a large choice of homemade sauces, such as shallot red wine Bordelaise and CUT's signature recipe for Argentinean chimichurri.
There is an extensive array of seafood such as the pan roasted Scottish lobster with black truffle sabayon and sautéed Dover sole 'à la Meunière" with preserved lemon, as well as other steak alternatives including Kobe-style beef short ribs 'Indian spiced," slowly cooked for eight hours. In the starters section there's bone marrow flan with mushroom marmalade and parsley salad and big eye tuna tartare with wasabi aioli, ginger, Togarashi crisps and Tosa soy.
For pudding, pastry chef Melissa Zahnter (from CUT, Las Vegas which opened in March 2008) has devised a collection of traditional British and American favourites such as baked Alaska, dark chocolate soufflé with whipped crème fraîche and banana cream pie.
For the first time at a CUT restaurant, breakfast and lunch menus will be available, showcasing Puck's twist on American classics. Puck also offers his version of the traditional English breakfast featuring fried brioche, poached organic eggs with black truffle Hollandaise, streaky bacon and sage and black pepper pork sausages.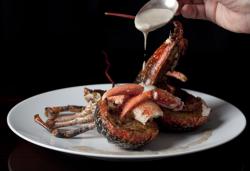 The lunch menu features smaller portions of the signature cuts of meat with CUT's sides and sauces as well as a 'From the Sea" section with Dublin Bay prawns and scallops with Yuzu-Kosho butter and the famed Spago lobster club sandwich with Apple Wood smoked bacon.
Wolfgang Puck commented 'I am enormously excited about bringing CUT to London which is renowned for having some of the finest restaurants in the world. I hope that CUT at 45 Park Lane will make an exciting new addition to the London restaurant scene. We want it to be a place where people can eat, drink and socialise, and return to time and again regardless of the occasion or whether for breakfast, lunch, dinner or cocktails in the lounge."
45 Park Lane, London, W1K 1PN