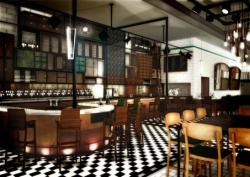 Bread Street Kitchen, a lively and exciting new restaurant and bar from the team at Gordon Ramsay Holdings, will open on 26th September at One New Change, London. Bread Street Kitchen will be home to a relaxed dining experience, set in a large warehouse-style room that draws inspiration from the East London aesthetic surrounding it.
At the heart of the Bread Street Kitchen offering is an informal approach to dining – guests can meet, eat and drink from early morning until late at night. Underpinned by great service and a menu that includes dishes from a raw bar, a wood-burning oven and from the lively open kitchen, the aim is to deliver a great experience to those that visit at whatever time they choose.
With design by Russell Sage, the dramatic space of the Bread Street Kitchen site will stay true to its industrial roots, whilst giving a contemporary yet cosy feel, making use of reclaimed furniture, vintage armchairs and leather banquettes, alongside striking lighting displays, an exposed lift shaft and viewing platforms through the centre of the restaurant. Guests will also be able to take in the incredible wine balcony which will stretch along the wall above the kitchen and hold no less than 2000 bottles of wine.
The all-day restaurant will offer an extensive wine and cocktail list alongside a seasonal menu. Guests can set themselves up for the day with a Bread Street 'English', grab a quick stone bass carpaccio with avocado, horseradish, ginger, honey and wakame for lunch at the more relaxed raw counter or enjoy a lazy sit down over a king crab cocktail and Bread Street short rib burger in the evening. Otherwise guests can stop by the ground floor bar for a cocktail, glass of wine or to try a selection of small plates.
Open from early until late, Bread Street Kitchen will offer a full around-the-clock food experience.
Bread Street Kitchen, 10 Bread Street, LONDON EC4M 9AB