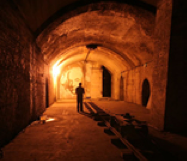 Lazarides Gallery are delighted to announce a collaboration with Kofler & Kompanie, pioneers of PRET A DINER, who will be redefining the dining experience in the form of a Michelin Star pop-up restaurant during their four-week residence at The Old Vic Tunnels. From 10 October until 25 October, the underground venue will be transformed into an alternative cultural space featuring a labyrinthine gallery of street art and film, a world-class restaurant and lounge-bar.
Within the maze of artwork, KP Kofler, Founder and CEO of Germany's well known caterers, will bring together some of the best chefs in the world to demonstrate their technical expertise and unique form of creative cuisine. By refashioning one of the Tunnels, KP Kofler will introduce pret a diner to the London stage for the very first time with a soon-to-be-announced Michelin star London chef at the helm.
Lazarides' return to the Tunnels this year takes inspiration from the ancient Greek legend of The Minotaur. Steve Lazarides will commission artists from his international stable to each create their own interpretation of the classical myth within a stunning Labyrinth installation. Artists so far confirmed to contribute include: Stanley Donwood, Jonathan Yeo, Antony Micallef, Conor Harrington, Doug Foster, 3D, Ian Francis, ATMA, Michael Najjar and Lucy McLauchlan .
Tickets to The Minotaur: £5. A portion of the fee will be donated to The Old Vic Theatre Trust. Free entry to under 18s.
A three course meal at PRET A DINER including entrance to the exhibition will be priced at £75. Bookings will be available at 7pm and 9.45pm.