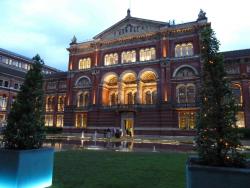 It's always the case. It's on your doorstep, it's on your to do list, it's easy to do something else. And so it is with visiting museums in London and me. Unless visitors from abroad insist they want to wander around one, or there is a one-off, must-see exhibition, there is always another time.
Hearing about the Bombay Sapphire Imagination Bar at the V&A during one of the museum's late night summer camp evenings was the motivation I needed. A bit of culture seeing one of the permanent exhibitions and I could justifiably reward myself with a cocktail.
The thought of Bombay gin sent me heading for the Nehru Gallery and discovering a beautifully lit selection of jewellery, furniture, textiles, armour and paintings from the Indian subcontinent in an architecturally inspired display. An architecturally inspired Bombay Sapphire Imagination bar greeted me outside in the beautifully lit John Madejski garden of the V&A.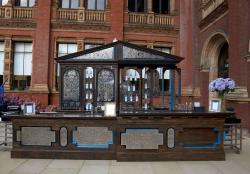 From a distance the bar appears to be Victorian in style with wood features and beautifully etched mirrors. However all is not what it seems. As you draw closer you see that the front of the bar is actually a trick of light and the panels start to deconstruct. From this unexpected façade, expert mixologists create imaginative summer cocktails – and I drank a glass of Imagine: Bombay Sapphire gin, fresh lemon juice, Maraschino liqueur, Crème de Violette and egg white – decorated with a bright blue dust (matching the signature blue of the Bombay Sapphire bottle). I was a bit worried about that egg white (what about its gelatinous texture, and would it make the drink taste, well, eggy?) but its role is to provide a layer of feather-light foam on which the design can float. It didn't spoil the scent or flavour of this refreshing ice cool, sweetly-sour, summery cocktail.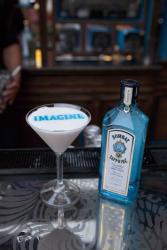 You have one more summer Friday Late night to push yourself to tick off 'go to V&A" on your list of things to do – and five cocktails to choose from. Friday, 30th September from 18.30 until 22.00 is the last of this year's Summer Camp Friday Lates – and it has one theme: make. Admission is free; some of the special late night activities might be ticketed. Cocktails cost £6.