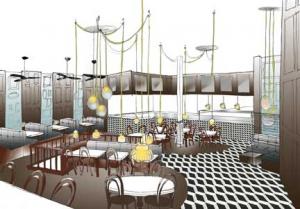 Dishoom (bless you!) aims to bring cool Bombay living to Covent Garden this July. Inspired by the disappearing old cafés that were an important part of life in India's commercial capital throughout the last century. Dishoom serves a menu that also nods to the city's street grills and food stalls – think Bademiya and Chowpatty Beach.
Seating 150, with 20 alfresco covers, Dishoom offers big 'Bombay meets London' breakfasts, lunches, early evening cocktails and suppers. Or dinners to those of us with a dictionary handy.
The open-plan kitchen should keep you entertained while you wait and the menu makes good reading – alongside chai and Bombay café dishes, Dishoom's affordable all day café menu takes its lead from the street grills and food stalls of South Bombay, and adds a London twist.
Savoury small plates of chilli cheese toast and fish tikka, grilled kababs, salads and healthy roomali roti wraps. Chai mojitos, hot toddies and Bombay's famous Thums Up cola are on the drinks menu. With a single 'Ruby Murray' of the day, Dishoom breaks the typical Indian mould encouraging diners to take a new look at the cuisine.
Located in the new St Martin's Courtyard development in the West End, Dishoom is spread over two floors. Checkerboard tiles contrast with the dark wood panelling to provide a backdrop for dozens of sepia family portraits. Retro light fittings suspended from looped cords sway in the breeze of slowly rotating ceiling fans. Mismatched chairs, banquette seating and marble topped tables allow diners to sit alone or with friends, family and colleagues.
Dishoom
12 Upper St Martin's Lane
London, WC2H 9EF