35 Panton Street, London SW1Y 4EL www.busaba.com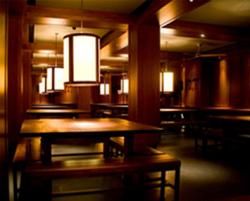 I do love Thai food. What's not to love when the basic principle of their cooking encompasses spicy, sweet, hot and sour… something to appease everyone really. But I do find it a struggle to pay the prices demanded at some supposedly upscale Thai eateries (mentioning no names) as the whole point of Thai food is it is humble regional cuisine and should be full of flavour and low on price. Having once worked for a Thai restaurant group, I know what to expect and can therefore be a harsh critic at times. You only need to have visited Thailand once to know exactly how fresh and flavoursome the food really should be; it's really not rocket science and as a nation we are more knowledgeable about food from the far east then ever before.
Busaba Eathai in Panton Street, just off of Leicester Square is the restaurant group's latest opening. Brainchild of restaurateur Alan Yau, creator of eateries like Wagamama, Hakkasan, Yauatcha, Sake No Hana and Cha Cha Moon, Busaba now has 4 branches in London with another soon to open in Old Street, EC1. For those of us who have eaten at Wagamama, the concept at Busaba Eathai will be familiar with casual bench seating and tables shared with other diners, except Busaba's tables are square instead of the classic elongated tables at Wagamama.
I sip an ice cold Guava Cooler as my eager eyes dart all over the menu, enticed by noodle and rice dishes, curries and sides. Pad Thai with prawns, Thai calamari, goong Tohd prawns along with red lamb curry, steamed rice and 'morning glory' greens in yellow bean sauce. My friend Mo and I are absolutely starving and have no qualms about possibly over-ordering; after all when it comes to Thai food variety of dishes is key as is sharing, which I find a little harder to do when something is really good.
The Pad Thai is a delicious heap of rice wok-fried rice noodles with crunchy vegetables, fried tofu and giant prawns and accompanied by a fat wedge of lime and some crushed peanuts which I add to the noodles. Every bite is zesty and moreish with huge meaty prawns that are a world away from the horrid supermarket variety, flabby and unpleasant in odour. Chunks of tender lamb are bathed in an earth red curry sauce with lychees that cut through the spicy heat of the curry sauce with a soothing sweet burst of their natural juices. Steamed rice also helps take the edge of the curry for those who need it and the morning glory provides a nice crunchy accompaniment.
The goong tohd prawns are served with a green mango and chilli dipping sauce which is lovely and sweet, but the real star of the show is the Thai calamari with ginger and peppercorns. Each piece of calamari is lightly battered, deep-fried and served with ornate strands of fresh green peppercorns. I don't exactly know what they do to the squid but it is absolutely delicious and you just can't help but wanting to eat more of the stuff. Needless to say after such a generous meal and upon reflection over-indulgence on the calamari front, we haven't managed to leave any room for dessert which luckily I am ok with because they don't offer dessert. But as in most far eastern restaurants, in most cases desserts really aren't so great anyway.
Busaba Eathai is a welcome addition to the surrounding area of the West End, littered with tourist-driven junk food stops and dodgy pizza and kebab outlets that the health and safety inspectors have clearly turned a blind eye to. So if like me you want to have a proper meal that is delicious and doesn't carry the risk of making you ill whilst emptying your wallet of cash, then Busaba Eathai is a great place to stop for a bite to eat. It's quick, affordable, and informal and even better, it's open all day. Evenings can get busy which is tricky if you arrive in a group as they don't take reservations so expect to wait for a little bit, but your patience will undoubtedly be well rewarded.