With the notorious catchphrase of I Think Therefore I du Vin, the Hotel Du Vin and Bistro must be doing something right, as their long awaited appearance in the capital suggests. Although Descartes would almost certainly disapprove, the opening of Bistro du Vin Clerkenwell this coming April, is definitely something to celebrate.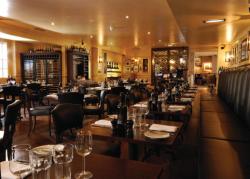 Taking over a stunningly renovated Victorian Property near St John St, the Bistro du Vin will be stones throw from Smithfield Market. Not just a happy coincidence for us carnivores. Working in close partnership with local farmers, fisherman, cheese makers and other food heroes, the Bistro du Vin at Clerkenwell will be the brands marker for its ethos in promoting good local food.
As well as promising to deliver excellence in the kitchen, the Bistro du Vin has a couple of other treats up its sleeve. Food voyeurs can opt for the chef's table. Positioned between the kitchen and the Butchery diners will be right in the thick of it, having cuts prepared on one side and cooked on the other. But if you can't stand the heat, pull up a chair at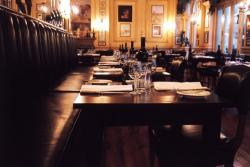 the longest dining bar in London and enjoy eating at their intimate show kitchen. Check out the chef's knife skills and see for yourself how long the beef's been in.
Obviously with the Du Vin name behind it, the Bistro du Vin wouldn't be complete without a decent bottle or two. They've gone for quality and quantity, with a very large and very well stocked cellar. Enjoy a glass by the fire, or join Master Sommelier Ronan Sayburn at the wine tasting table and learn a thing or two whilst wining away a couple of hours. You might even be waited on by Michael Roux' Service star, Danielle Meenagh, who will be joining Ronan's sommelier team. So whether you're after a coffee and croissant, or a nightcap at 3am, Bistro du Vin Clerkenwell's doors will be open from 8 April 2011. www.hotelduvin.com