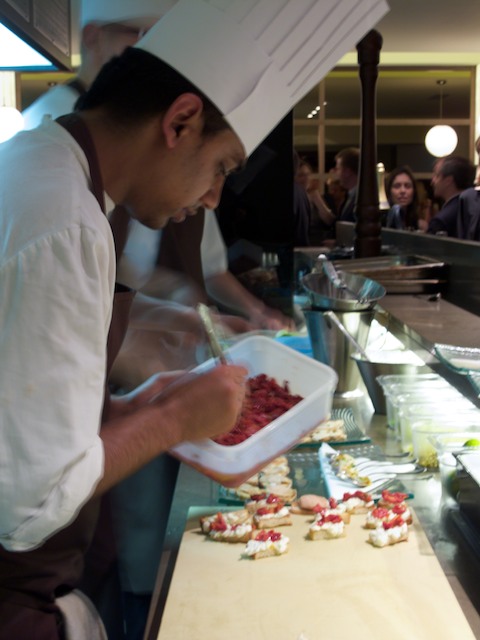 Bjorn van der Horst's Eastside Inn restauarant opens next Tuesday May 19 close to Smithfield Market in London's Farringdon. The project is the first solo venture for the acclaimed chef and his wife, Justine and the realisation of their dream to combine the best of traditional and contemporary hospitality in one of London's finest restaurants.
The inspiration behind the concept was born of the couple's shared love of hosting dinners for friends at home, occasions filled with good food, fine wine and lots of laughter that usually ended up in the kitchen into the early hours of the morning. It's this easygoing and welcoming ambience that the van der Horsts are aiming to recreate at Eastside Inn. For that reason, a large open kitchen and counter shared by two restaurants – a bistro and fine-dining restaurant – is at the heart of the Eastside Inn. The venue also has a private dining room, a jazz lounge and late license, guaranteed to set it apart from any other restaurant in London.
The Eastside Restaurant:
Eastside Inn's fine-dining London restaurant features Bjorn's creative and contemporary take on French cuisine in a relaxed and intimate setting, seating just 34 diners. The daily menu is made up of 12 dishes, each inspired by the best of the day's market produce. The three course 'Menu Classic' is £45; the seven course 'Menu Discovery' is £65. Both are available as a 'Menu Surprise', were each course is chosen by the chef. Highlights of the menu include Bjorn's foie gras with espresso syrup and amaretto foam and raw diver scallops with sea urchin vinaigrette. The predominantly French wine list, priced from £25 to £450, introduces an exciting selection of organic wines and those from smaller producers and appellations.
The Eastside Bistro:
Eastside Inn's bistro seats 50 covers and includes a relaxed bar and lounge space where guests can enjoy aperitifs and digestifs, cocktails, wine or coffee. The market-based menu is anchored in the classics of French regional cuisine. The short menu is supplemented by plats du jour.
Dishes start at £6.95 for entrées; £12.95 for main courses; £4.95 for desserts.
A selection of French wines, available by the glass, pichet and bottle, have been hand-picked to complement the cuisine. Prices are £4.50 a glass, £15 a bottle.
Bjorn van der Horst:
Swiss-born Bjorn was raised in France. He learned his craft in the kitchens of some of the world's most famous chefs including Joël Robuchon and Alain Ducasse. Most recently, Bjorn was chef patron at Gordon Ramsay Holdings' La Noisette in Knightsbridge where he won a Michelin star within six months of opening.
Justine van der Horst:
Canadian-born Justine met Bjorn while working at Gaia. Justine joined him in London where she worked in marketing and sales for one of the UK's fastest-growing communications companies. As restaurant director at Eastside Inn, she is in charge of training and managing all the staff as well as making sure all the guests feels cared for.