It's been 72 years since Bogey uttered the immortal lines "Of all the gin joints, in all the towns, in all the world, she walks into mine."In the 72 years that followed, almost no silver screenplay has eve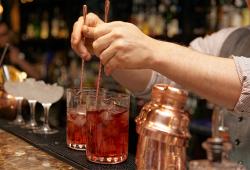 r quite caught the same sense of wistful heartache that made Casablanca a classic. Since then, the number of gin joints that Ingrid Bergman could have walked in to has similarly faded away.
Be still your romantic, gin soaked heart: on 9th September the Barbican Centre will welcome Gin Joint. Managed by Searcys, and boasting an 88-seat dining room and a 30-seat bar (enough for 15 lovers to woo) there is also private dining room for up to 16 people.
Trivia time: it is interesting to note that the immediate area of the Barbican was widely regarded as the gin capital of the world in the late 18th century – hence the local street named Gin Lane, and William Hogarth's famous satirical engraving Gin Lane – and it is recorded that in the 1750s Londoners drank an astounding 11 million gallons of gin per year. For those of us who love snifter of mother's ruin, this seems a tad over the top.
If you fancy partying like it were 1759, Gin Joint will offer one of the most comprehensive lists of London dry gins on offer in the City. Approximately 40 gins will be available, including one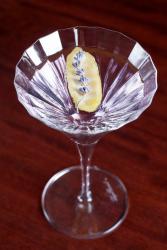 chilled on tap – Brokers – the first bar to offer this in London. In addition, there will be a wide-ranging selection of both contemporary and classic cocktails, as well as artisan wines, craft beers and Champagne.
Executive Chef Oliver Tobias (previously at the Royal Opera House and Maze) has created a British menu  with an interesting mix of  dishes, many cooked on a Bertha Grill. The launch menu will feature, among other dishes, Chilled cucumber and Beefeater Gin gazpacho with mint scone; Gressingham duck sausage with pickled shallots, scallop and juniper; 35-day Aged Longhorn fillet; Whole lobster with courgette, sugar snaps, lemon and borage; Grilled pork collar, leek, sage and apple bake; Cauliflower cheese'rarebit' with herb and pine nut crust and picked vegetable salad; Plum and almond crumble, star anise and orange custard; and Beefeater Gin and tonic granité.
Prices for starters will range from £4.50-£25, main courses £10.50-£27, and desserts from £5-£8.50.  In addition, a short daily lunch and pre-theatre (5pm-7pm) menu will be £16 for two courses, or £20 for three (with a choice of three starters, main courses and desserts). A separate all-day bar menu will also be available.
The bar will feature several new signature gin cocktails, including Peppercorn (Beefeater with grapefruit juice, rose syrup and black pepper), Lambeth lemonade (Beefeater 24 with Lillet Blanc, raspberry syrup and lemonade), and Gincognito (Plymouth gin, fresh lime, coriander, cane syrup and Peychaud's bitters and tonic). The concise international wine list will comprise 30 bins, with prices from £21.50, and a range of 10 by the glass (from £5.75).
Every evening from 7pm-9pm,'Gin Democracy' at Gin Joint will offer the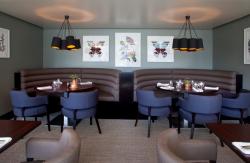 chance to try any of the 40 London Dry gins for the price of a regular house gin (£8.50). There is also the opportunity to join The Gin Club, a new monthly series of Master Distiller Evenings with tastings and dinner with a'gin-influenced' menu.
The L-shaped space overlooks the Barbican Lakeside and has been refurbished  with an earthy colour palette, new natural sisal flooring, relaxed leather sofa seating and bespoke copper light fittings in the bar. Fancy.
Gin Joint will be open Monday to Friday for lunch (Noon-3pm) and daily for dinner (5pm-10.30pm).
Level 2, Barbican Centre, Silk Street, London EC2Y 8DS
Reservations – 020-7588 3008; or Email – ginjoint@barbican.org.uk
Website – www.searcys.co.uk    Twitter – @GinJoint_London