Rotary Bar & Diner, 70 City Rd, London EC1Y 2BY www.rotarybardiner.com
D'you know, after years of living in EC1, I'd never walked from my home to Silicon Roundabout until a few weeks ago. It's a really bizarre phenomenon that dawned on me after asking the company intern to grab the directions from my home. I didn't ask for directions through laziness, I'm just not awesome at technology, nor am I as knowledgeable about London as someone who's grown up in da big smoke, ya get me.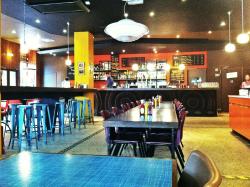 Silicon Roundabout, for those not in the know, is the large roundabout by Old Street tube station, and got its name by having a large amount of tech companies basing themselves nearby. You never know, a brisk ten-minute walk to this concentration of technology may not only prove I'm not lazy, but may also teach me a thing or two about being more techy.
The Rotary Bar & Diner is virtually on the roundabout itself. I know the venue as being the former site of the City Art and Music Project, which I'd been to once with a theatrical enigma from uni days. I'm told by staff, and also by another journo friend, that Rotary is a pop-up, but can that really be the case if it's planned to be here until December? The term'pop-up' seems to be in danger of losing its meaning, overused by hipsters and advertising morons to boost profiles, to the point where'pop-up' was a indeed a pop-up term, now it's just more like a formality in description.
Whether it's here momentarily or not, it'd be a good idea for you to pay a visit and sample the burgers. I guess the walk here and back will burn off the calories, not that I'm conscious of them or anything, but when you get your gums round burgers that drip juices there can be a feeling that it's not good for the figure. Wait a minute, I've never let that bother me before, and quite frankly that's exactly what a good burger should be doing. Burgers should be messy. It's food, not art. Forget a la carte dining and silly stars, a good burger is going to need patience and napkins.
The menu is nice and simple with five different types of burger – chicken, beef, pulled pork, pollack and veggie. Incidentally there are other options other than burgers but seriously, go for the burgers. I still can't agree that you can have a main meal without meat, so the veggie option is not chosen despite being told it's arguably one of the best in London. You can't go wrong with beef, so I'm going for that one, and even though the pulled pork is winking at me suggestively like the swine-whore that it is, I'm advised by Sam, who by the way is a top bloke at the joint, that I must try the chicken burger.
The Rotary burger is the house's take on a beef burger – rare breed beef, onions, cheese, bacon, bun sauce and a touch of slaw. It's as sloppy as it sounds and bursting with juices that trickle down into the plastic basket filled with beef dripping chips. It's a brilliant burger and you wont even mind mopping your mouth with a napkin after every bite because the taste is great. The chips soak up the juices and provide a nice salty crunch in between beefy bites. I'm close to believing this is the best burger in London, but then I tried the chicken.
Ok, I know a chicken burger can arguably sound a bit uninspiring and typically chicken is a bit boring and flavourless in comparison to beef, but trust me and have a go. The chicken is coated in a crunchy and crispy combination of batter and breadcrumbs, creating an intensely juicy mouth-watering powerhouse of a burger. You're going to get messy again, seems to be the theme of this place, but it's totally worth it. There's a kick of spice from a touch of hot sauce in the relish, not to the extent that it'll take your head off. Claire managed a bite and she only goes for green Pepperamis – pussy.
If you're going for starters too then try sharing some chicken wings – they have the same crunchy coating as the chicken in the burger, are fried in buttermilk and served either sticky or hot. If you're a real hero and can stomach a dessert by the end of the burger onslaught, the salted milk chocolate pudding cup is, and I quote, "better than a Rolo yoghurt". Now, I'd never tried one before, a Rolo yoghurt that is, and I can confirm that they are amazing…and also that the Rotary pudding cup is better. Winner winner after a lush chicken dinner.
Am I more techy after the trip? Nope, I didn't even have to use my GPS to get here. Have I proved I'm not lazy? No, not really, I just felt too embarrassed to hail a taxi down for a fare less than a fiver. Do I care about any of this? No, I've had an incredible burger experience and I'm coming back for more wings and burgers before this supposed'pop-up' pops off. How good are the burgers? Given that two out of two burgers were incredible, I'm even tempted to go for the veggie.