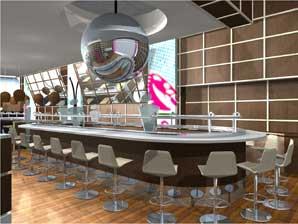 itsu is opening its largest ever restaurant in Notting Hill, during the second week of March. This fourth restaurant will offer shoppers, local professionals and visitors to nearby Portobello market – itsu's trademark quality, healthy Japanese menu.
This is the first site to feature an itsu 'Butterfly Bar", serving sake and cocktails in dramatic surroundings. Vibrant interiors include a giant ornate birdcage, pink neon lights, decorative giant butterfly motifs and large hanging silver disco balls.
Ground Floor – restaurant & shop
The large ground floor restaurant will have a capacity for 92 diners. Guests will be seated at three conveyor belts serving Asian influenced dishes including: Spicy tuna X-ray roll – line caught yellow fin tuna, Langoustine Gyoza, Asian vegetables, glass noodles in Dynamite Broth – home made langoustine dumplings, shitake and vegetables, served in itsu dynamite broth with gluten free vermicelli noodles topped with baby sprouting herbs Soft Shell Crab maki rolls' – a whole soft shelled crab, cooked tempura style, avocado, cucumber and tobiko, wrapped in steamed rice & nori with a fresh chive jacket.
Additionally, customers will be able to come in and pick up a healthy balanced take away meal from the shop area, as well as make use of a local delivery service that will launch in the Spring. The shop menu includes healthy daytime snacks ranging from dynamite noodles, sushi, sashimi, salads, soups and zero fat frozen yoghurt made freshly throughout the day.
First Floor – Butterfly Bar
itsu has always served light food, and now the new Butterfly Bar will serve diners a variety of sake, cocktails, beers, wines and champagnes. Signature cocktails include the Bell'itsu – champagne, lychee puree, crème de cassis as well as other classics such as margaritas and raspberry mojitos. In keeping with the meaning of its name, 'whenever," itsu aims to be a venue for all needs, whether its a lunch on the go, a takeaway to the office or a friendly evening dining venue serving healthy Japanese dishes.
100 Notting Hill Gate, London W11 3QA
Opening Hours:
itsu shop: 11-11pm
itsu restaurant, & Butterfly Bar 6pm-11pm Monday to Friday
:12-11pm Saturday and Sunday
(The restaurant will launch during the daytime in the near future)