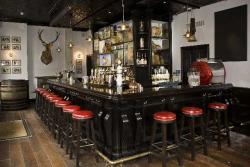 Tom and Ed Martin's latest enterprise in London, The Jugged Hare, takes its name from an18th century recipe created by Hannah Glasse, the UK's first and foremost domestic goddess, apparently.
With a focus on seasonal British dishes prepared using traditional cooking methods and independent wines, the Jugged Hare has a pub, spacious dining room with white butchers tiles and loads of copperware. There's also an open theatre-style kitchen and an impressive vaulted private room downstairs as well as the obligatory taxidermy – we identified stoats and pikes – in a wall of glass tanks at the bar.
They plan to serve actual jugged hare when it's in season but for now, we settled on the Bath chaps and langoustine for starters, both presented beautifully. The Bath chaps – or pig cheeks – were slapped into the middle of the plate with the shellfish draped on top. The cheeks had been bathed in Madeira and veal juice then rolled in fat. Its texture was soft and gritty, very rich, brawny and meaty. However, there was little meat in the langoustine and we seemed to be missing some crackers or something.
This was ameliorated by the Dorset white crab with brown crab mayonnaise which came in a little pickling pot with toast, and was herby, lemony and refreshing. Accompanying this was the wine, a Ter de Colle, Riserva, Biferno, Italy 2009, spicy with a pleasing cherry flavour to it.
My Monkfish tail with cockles and caviar butter was excellent. The firm meaty knuckle of white fish, cooked correctly, was complemented by spasms of prangy caviar in the buttery sauce and offset by the little cockles – three degrees of fishiness on a plate.
The pot roast quail for one with smoked bacon, chestnut mushrooms and potatoes was a generous serving with a deep flavoured stock. We also liked the honeycomb ice cream with chocolate sauce pudding and black treacle tart with Jersey cream, light with a licorice remnant.
There were mainly couples on this Tuesday night and service was swift, perhaps too swift sometimes, fast as a hare on a late spring evening. Maybe it's sprinting to their next launch; watch this space.