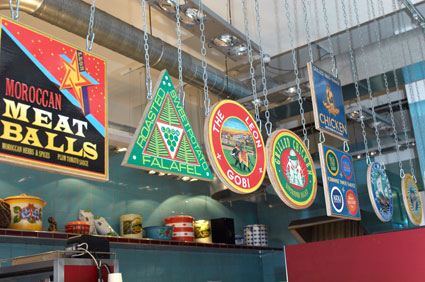 Award-winning natural fast-food restaurant LEON opens its first out-of-London site today 19th May at Bluewater, Europe's leading shopping and leisure destination. The restaurant will be located in the fast-food and family dining area in the Wintergarden close to McDonalds and KFC.
Best known in the capital for changing the face of fast food as it was, LEON restaurants serve food that tastes good and does you good, using only ingredients that are fresh and well sourced. It is this philosophy that founders Henry Dimbleby and John Vincent hope will continue the chain's success in its new surroundings in Kent.
"We are trying to revolutionise fast food by proving that it can taste great and be good for you," says Henry, "So for us it's a significant milestone to be opening out of London, close to the big fast food players. We hope it will prove that we can be the new mainstream offering the best food to the most people. "
It was LEON's success and uncompromising commitment to change the common negative perception that 'fast' food must mean 'unhealthy' food that made it an attractive addition to Bluewater's fold of restaurants and cafes.
Andrew Parkinson, Bluewater General Manager said: "Bluewater continues to lead the way with another industry debut, by welcoming LEON'S first restaurant outside of London. With over 50 restaurants and bars, Bluewater has something to offer all of our guests and we feel that the addition of LEON will add a great fast – but healthy – food option."
LEON first opened on Carnaby Street in 2004 and was quickly named Observer Food Monthly 'Best Newcomer of the year'. Since then LEON has won a number of awards including an RSPCA Good Business Award in 2008 and the Gold Palm Award for the most innovative, newly opened restaurant in Europe 2008.
LEON continues to win over customers by serving take-away or eat in breakfast, lunch and dinner with a seasonally changing menu.
Breakfast at LEON ranges from organic porridge with home-made compote and seeds, Greek yoghurt with low-GI stringy bark honey and the ever popular Breakfast Power Smoothie to hot sausage baps, while lunch includes Superfood Salads and flatbread wraps, alongside new Spring dishes such as daily changing soups (Leek and Chickpea and Malay Chicken Laksa to name a few), Tuscan Sausage and Savoy, Rogan Josh; yoghurt Knickerbocker Glories; and organic Oat and Raisin cookies.
In the evening, LEON slows down to offer a casual table service of dishes, while its puds include the ever-popular hot chocolate brownie with organic ice cream.
For details of LEON's locations and daytime, takeaway and evening menus please visit: www.leonrestaurants.co.uk