Re-Invention
Fond of military jackets, bandanas and the occasional reclaimed ladies blouse? Know it's only rock n' roll, but you like it? Olympic Studios, the famous London recording studios that in its day played host to such musical legends as Jimi Hendrix, The Rolling Stones, Madonna, U2 and Led Zeppelin, will open its doors to the public next month with a reinvention that would make the Material Girl proud. In mid-October, Olympic Studios will open to the public as a fully functioning, multi-faceted space, with a Cinema, Private Members' Club and Café and Dining Room.
The venue – originally a cinema, dating back to 1906 – is the creation of local Barnes couple Stephen and Lisa Burdge, owners of film advertising agency Empire Design.
The pair bought the studios from EMI in 2010 and spent two years gaining planning permission for the ambitious project. Their aim is to return Olympic Studios to its roots as a West London entertainment venue and to preserve and protect its music and sound heritage. The funding was aided in part by 250 founder members, all of whom paid £5000 each.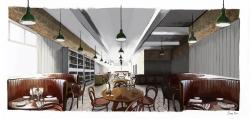 How Come You Taste So Good?
Olympic Café & Dining Room will be overseen by Jon Laycock, formerly of Soho House Group, with Swedish-born Andreas Engberg (ex-Racine, The Arts Club and Garnier) as Head Chef. It will be open seven days a week, for Breakfast, Lunch and Dinner, offering a predominantly seasonal British menu with European influences.
Breakfast menu will include'Olympic Breakfast, Avocado Toast' and'Autumn Fruit and Berry Salad', while the all-day restaurant menu will be organised around sections: Small Plates & Starters, Salads, Mains, Roasts, Grill, Puddings and Pastry. Signature dishes will include:'Home-smoked Mackerel','Sutton Hoo Roast Chicken','Whole Grilled Lobster', and desserts such as'Bread & Butter Pudding'.
The sandwich menu will offer a selection including'Reubens','Longhorn Cheeseburger' and the'Olympic Dog'. A separate children's menu will feature'Penne Pasta','Mini Beef Burgers', and'Cottage Pie' as well as homemade lollies, brownies and milkshakes.
The visual'Pastry Kitchen' will be open throughout the day for everything from pancakes and waffles in the morning, to pies, grills, puddings and pastries later in the day. There will also be an on-site sweet shop selling freshly made popcorn and a variety of sweet-treat confectionery.
Wine is Fine…
The wine list has been assembled to accompany the of dishes on the menu and will encompass grape varieties from all corners of the globe.
Both old and new world wines feature, beginning with the French house white (Mon Roc Ugni Blanc Colombard, 2012) and a Spanish house red (CandidatoTempranillo, Tierra de Castilla, 2012). The list's reach extends to fine wines from globally renowned vineyards (e.g. Tignanello, Marchesi Antinori, Italy, 2009 and Sancerre Croix du Roy, Lucien Crochet, France, 2011) and a selection of Champagne and sparkling wines e.g. Perrier Jouet Grand, Brut from France, and Deakin Estate Sparkling Chardonnay Pinot Noir from Australia.
For after work refreshment or pre-dinner drinks, an list of contemporary and classic cocktails will be available throughoutthe venue; the selection will cover a century of cocktail history with a classic Sidecar (1922), a newly created Petalo di Rosa Champagne cocktail (2013) and house signatures such as the East Side Pickford (2013) with Havana 7, pineapple shrub, lime juice, bitters and caramelised pineapple. Fruity.
Sound and Vision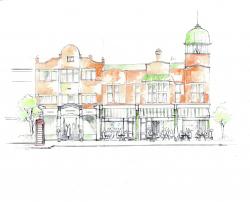 Olympic Studios will be a multi-faceted venue with two cinemas. Screen 1 seats 125 people and will be home to the latest state-of-the-art Dolby'Atmos' sound system, while Screen 2 will seat 65.
In both cinemas, the emphasis will be on providing the ultimate viewing experience, where guests can enjoy the best of general release as well as lesser-known art house films, exclusive cast & crew Q&A's and parent-and-baby screenings. The Private Members' Club and Recording Studio, spread across the all three floors, will comprise private dining rooms, bars, work rooms, and meeting spaces.
The new interior design at Olympic Studios has been overseen by Simone McEwan Design & Consultancy. Simone, former Director of Design of the Soho House Group and Concept Director at Selfridges, has created a friendly environment that opens up the studios' history to the public and communicates its musical and artistic legacy through the pop cultural and musical artefacts left behind.
Various original features have been retained, such as large wooden beams, exposed brickwork walls, and handsome wooden floors covered with the original rugs and carpets that helped soundproof the old music rooms. The Café & Dining Room will be homely and welcoming with large wooden sharing tables and more intimate tables framed by comfortable leather banquette seating.
Olympic Studios opens at 117 Church Road, Barnes, London SW13 9HL on October 14th. Click here to for their website, and for updates follow @Olympic_Cinema.