Jekyll & Hyde, 28 Steelhouse Ln, City Centre, Birmingham B4 6BJ
So I've teamed up wiv diss Norf Landaan girl innit to form a company. Things are going well. I'm enjoying it, I think she is too, the very fact she can put up with me is remarkably impressive, so I guess one could interpret her stamina as evidence she's enjoying the experience…either that or she's too far in to get the heck out. Anyway, any business partner that allows me to knock back G&Ts before I eat lunch is awesome in my book, so I'm blessed.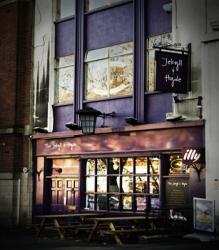 Being a writer and critic and all, you can't argue with her for thinking I'd know a cool place to recommend to our followers. Problem is, she wanted it to be in my home city of Birmingham. That's when the fit hit the shan. Having been exposed to the luxury of West London and the quirkiness of East London…Birmingham just doesn't cut it. Or at least that's how I thought, until this beautiful little donkey told me about a place called Jekyll & Hyde. 
The name didn't have an impact on me at all – people call pubs and bars all sorts of things these days. My Father's Moustache, Bunch of Carrots and my favourite, The Legend of Oily Johnnies, are all pub names. Brilliant. Must send them a postcard. So Jekyll & Hyde, I assumed, would be a nice, quaint, aesthetically pleasing little bar with some good food. I looked on the website and I had one of those moments of shaking one's head in a combination of amazement and disbelief. A cool, quirky bar in Birmingham, what the duck??
A website can only show you so much, but the very fact they have a "gin parlour" with over 80 gins and serve cocktails in teenie tiny watering cans and baths blew my mind. You could pick it up and drop it in East London. Not that it wants to be in London, it really doesn't, but it's that little bit of creativity that soulless Birmingham is lacking. If the food matches the off-the-wall uniqueness, I'm ready to marry this bar.
It's been a while since I caught up with Deadman and Mud, two of the best mates a bloke could ask for and ones that will never judge a fat Persian bloke for leaving Birmingham and coming home even more pretentious and weird than the last time they saw him. Mud's been here before and he likes it, and to be fair, his knowledge on all sorts of subjects is awesome. He opened my eyes to things like Devil Driver, rum, torrents and the Nintendo Wii.
Deadman's more of a traditional bloke. He likes his ales, he likes his beers, he likes his…well…he likes booze really. If a place is too over the top pretentious he wont have it, "can't go there, they make you wear shoes and a shirt, I'm off to O'Neills". So it's a wonderful moment when you find a place that we all three love. But anyway, let's talk about the food, yeah?
Cashel Blue cheese stuffed courgette flower in crisp tempura batter with a spring vegetable salad. I know, no meat. Weird. I never do that. I've not even had that much gin. Well, we've had a fair bit. The staff know their stuff, so you're in good hands as far as recommendations. Nevertheless, my meatless starter is absolutely brilliant. I think anything is if you tempura batter it – may try doing that to a pork scratching one day. However the warm blue cheese that powers through the batter and the courgette flavour is great. Crunchy texture, strong cheese flavour and the added justification that you've not been naughty choosing deep fried cheese because of the salad. Winning.
Corn fed chicken supreme with peas and bacon, wilted baby gem, new potatoes, chicken stock reduction. It doesn't get much simpler than that really, unless you take away the word'supreme'. Tricky bit is keeping the chicken moist, aint nobody wantin' no dry chicken, ya get me. Fair play to the chef, they've done a good job. It's a nice quarter of chicken, moist as you like and the stock has a rich salty tang. The potatoes are done well, soft enough to glide a knife through. Peas and bacon is one of my favourite accompaniments, lovely.
All the different gin cocktails are turning the impromptu lads reunion into a brilliant time and the interior is exactly what I was looking for in terms of recommending a cool place. Quirky paintings and posters and a whole wall dedicated to showing black and white movies with no sound whilst you're eating and piling through the booze. I'm chuffed, Mud's chuffed and Deadman's chuffed.
We're all mad keen on the cheeseboard option, which has a Cashel blue, an Applewood smoked cheddar and a Brie plus some beetroot and apple. Obviously the crackers and celery are there too, but the cheese is ace. For those non-cheese fans, we had a bite at the Elderflower & Hayman's Gin liquer posset with honey comb and orange blossom Madeline. Overall verditct, yeah, pretty darn good. Crunchy bits are fun, the citrus flavours aren't overpowering and it's just the right amount.
I know I've waffled a bit on this one, can't help that, it's the way I am. However, you need to understand the magnitude of finding somewhere like this in Birmingham. It's going right to the top of my recommendations for anyone visiting the city or indeed anyone living in the city. Ok, if you want really top-level food then there's better restaurants, obviously, but they come at a much higher price and far less of an atmosphere. Go for the gin, stay for the quirks.