Gallo Family Vineyards Moscato
The chilled Gallo Moscato is a light to medium bodied wine, with notes of fruit and florals including juicy peach, citrus, pineapple and orange blossom. This sweeter style complements Asian cuisine, light desserts, fresh fruit and mild cheeses.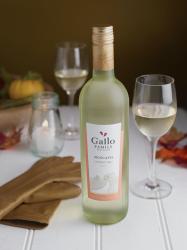 What you'll need: 
2 Bottles of Gallo Moscato
1/2 lemon, 1/2 orange & 4 kumquats
1 tablespoon of honey
1/3 to 1/2 cup sugar
6 whole cloves & 6 whole all spice
2 cinnamon sticks
Method:
Twist of orange zest and a star anise, to serve
Thinly slice the lemon, orange, and kumquats, discarding seeds. Quarter the orange slices.
Put fruit in a 4- to 5-quart pan. Add honey, sugar, cloves, and allspice. With a knife, cut the cinnamon sticks lengthwise into thinner strips.
Add cinnamon and 2 cups water to pan; bring to a boil over high heat, then reduce heat and boil gently for 5 minutes.
Pour wine into hot citrus base and heat until steaming, about 8 minutes.
Serve in a martini glass with a twist of orange zest and a star anise, to serve.