Tenderstem's easy to make, mild and sweet curry.
Serves: 4
Preparation time: 15 minutes
Cooking Time: 1 hour 30 minutes
You will need:
For the chicken:
1 tbsp vegetable oil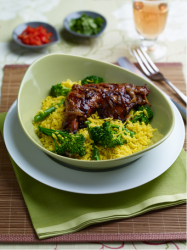 4 chicken legs or 8 chicken thighs (abut 900g)
4 Shallots, peeled & quartered
3-4 cloves garlic, chopped
2cm piece root ginger, finely grated
250ml chicken stock, either homemade or made from ½ a stock cube
5 tbsp dark soy sauce
2 tbsp runny honey
1 lemongrass stalk cut in half
240g Tenderstem cut into bite-sized pieces
For the rice:
350g basmati rice
400ml tin of coconut milk
300ml water
1 lemongrass stalk, cut in half & bruised
1 tsp ground turmeric
To serve:
A small bunch of coriander, chopped
2-3 medium hot red chillies, finely chopped
Method:
Add the vegetable oil to a large deep frying pan and set over a high heat. Fry the chicken pieces on both sides until well browned, about 8-10 minutes.
Reduce the heat a little and stir in the shallots, garlic and ginger. Pour over the chicken stock, soy sauce and honey and stir well. Tuck in the lemongrass, bring up to the boil, then reduce the heat to as low as possible and cover with a tight fitting lid or well pressed down piece of foil.
Cook for 45 minutes, then turn the chicken pieces over and cook for a further 45 minutes.
Halfway through braising the chicken, once you have turned it over, start the rice. Put all the ingredients in a heavy based saucepan with a tight fitting lid. Stir well and set aside to soak for 30 minutes. Then set over a medium heat, bring up to the boil, stir once, recover and simmer for just 1 minute. Turn off the heat, do not remove or open the lid, and leave for 12 minutes after which time the rice should have absorbed all the liquid. Fluff up with fork and discard the lemongrass.
Blanch the Tenderstem in boiling water for 3 minutes until tender but with plenty of bite. Drain and lightly fold through the rice.
Serve the chicken on top of the rice and pass the coriander and red chilli around separately for people to help themselves.
Cooks tip:
The braised chicken tastes really great the day after it is made as the flavours mature, so make it ahead of time if you prefer. Reheat in the oven, covered, at 180°C for 30-40 minutes or until piping hot.