Housed in a grade-II listed building – the former home of the British Linen Bank –  Piazza Italiana, is a new Italian restaurant, bar and event space.

With a menu made up of classic dishes from all over Italy, a chic bar serving up wine and inventive cocktails, and three striking event spaces for celebrations, Piazza Italiana is a new place to see and be seen in the heart of the City of London.
Sicilian-born Remo Mazzucato has over 50 years of Italian cooking experience and his menu is made up of antipasti, sharing plates, pasta, meat and fish dishes, served by a young restaurant team.

Starters include Tartare di Tonno – Yellowfin tuna tartare with avocado mousse, slow-cooked egg yolk and sturgeon caviar with shallots, chives and baby parsley. Or Insalata di Pomodori e Burrata – oxheart tomatoes with burrata, baron red onion, capers, balsamic pearls, sweet balsamic sauce and basil.

The Carpaccio di Manzo al Gorgonzola is classic sliced beef fillet, warm gorgonzola cream sauce, chives, olive oil and black pepper.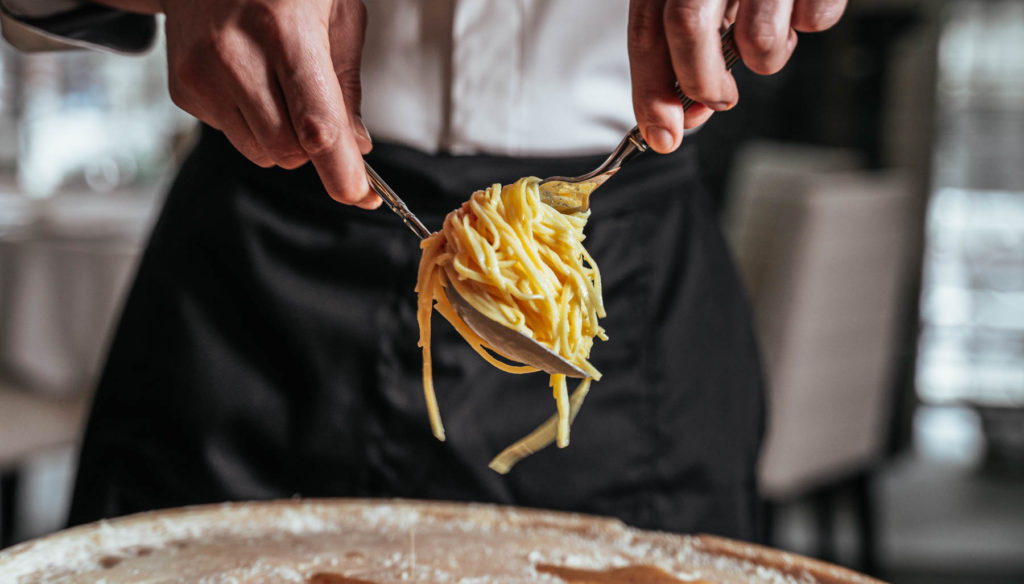 Larger plates include the signature Tagliolini Al Tartufo – tagliolini with truffle sauce spun in a pecorino wheel at the table. Other favourites include the Ravioli Al Granchio Reale – ravioli with crab meat, tomato lobster sauce and asparagus. The Ossobuco di Vitello Brasato – braised cross-cut veal shanks with sofrito sauce. Sharing plates include a cheeseboard selection and a soon-to-be launched cicchetti menu (Italian tapas) ideal with cocktails.
Piazza Italiana's breakfast menu, served from Monday through to Friday has eggs taking centre stage, with Eggs Florentine, Benedict, Royale or Italiana (served with prosciutto San Daniele), as well as Eggs Piazza Italiana – toasted ciabatta with prosciutto cotto ham, truffle pecorino cheese sauce, poached or fried eggs and fresh black truffle.

During the week, the lunch set menu offers local workers a quick menu of two courses for £27.50 and three courses for £30.
The upstairs bar offers cosy surroundings and a full view of the restaurant from above, perfect for after-work drinks, an aperitif before dinner or a nightcap to finish off your evening.
The restaurant is owned by Victor Radvive, who owns and runs the international restaurant group Resto-Rators.
Piazza Italiana
38 Threadneedle Street
London, EC2R 8AY
@piazzaitalianaUK