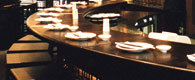 Following on from successful launches in Hampstead and St Katharine Docks, dim sum specialists Ping Pong are celebrate the launch of two City branches this Autumn. The first opened on Bread Street, in the shadow of St Mary-le-Bow's Church this September, giving local suits the chance to take a break from the credit crunch to savour Ping Pong's affordable and delicious cuisine.
The spacious venue is located in Bow Bells House and boasts floor to ceiling glass walls to draw the outside in. Diners can sit at communal benches or around circular tables – ideal for those who like to talk shop over lunch. Those seated at the dim sum bar can enjoy the culinary theatre of the steaming baskets and there is also a lounge bar area for those who just want to chill out with a cocktail. There's free wi-fi too – handy if you need to pretend you're still in the office.
The second Square Mile branch opened on 21st October on Appold Street, just minutes from Liverpool Street station and bustling Bishopsgate. This is Ping Pong's eleventh London branch and is the first to have a fully equipped meeting room with conference facilities – guaranteed to be a hit with neighbouring City slickers.
The menu, which features over 40 dim sum dishes, is great value for money with prices starting at £2.99 and a range of set menus priced below £15. The drinks menu includes exotic flowering teas and cocktails featuring Oriental ingredients like lemongrass, wasabi, lychee and ginger.
Both City sites are predictably closed on weekends, but during the week they are open all day until 10pm Monday to Wednesday and until midnight on Thursday and Friday.