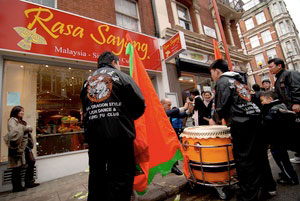 Rasa Sayang, a restaurant in London serving authentic Malaysian and Singaporean cuisine, was officially declared open on 14 December, by the Malaysian Transport Minister, Dato Seri Ong Tee Keat, who is also the President of the Malaysian Chinese Association. Over 250 people turned out for the opening ceremony which was also attended by the Malaysian High Commissioner Datuk Abdul Aziz Mohammed.
Rasa Sayang, which means 'the feel of love" in Malay also expresses the sensory delights of food. The restaurant represents the multi-faceted culinary wonders of the Southeast Asian Straits. The cuisine of Malaysia and Singapore is an excellent example of the ethnic diversity of the two countries, drawing inspirations from Chinese, Malay, Indian, Indonesian, and also Western traditions since Singapore's founding by the British in 1819.
Said Dato' Seri Ong Tee Keat, 'The opening of an establishment such as Rasa Sayang is definitely an excellent platform for Londoners to experience the diversity of traditions and the culinary wonders of our region."
The restaurant is established by a Malaysian entrepreneur and a Singaporean food court consultant who share a real passion for food, which is evident in the menu containing favourite dishes such as Nasi Lemak (coconut scented rice with a variety of condiments), Beef Rendang (slow-cooked beef in exotic spices), Hainanese Chicken Rice (chicken cooked in superior broth and served with fragrant rice), and Straits Curry Chicken (tenderly stewed chicken in rich coconut milk curry). Over 250 people turned out for the opening, which included a Liondance ceremony.
The duo has extensive experiences in London's restaurant scene with projects such as Inn Noodle, a restaurant specializing in authentic Shanghainese cuisine.
'Having been here for many years now, we understand how difficult it can be to find a restaurant that satisfies cravings for Straits cuisine," said Teddy KC Chen, Managing Director, Rasa Sayang. 'With the opening of Rasa Sayang we hope to share the gastronomic wonders of the Straits to Londoners and its visitors, and also to provide a place for Malaysians and Singaporeans to come and feast on the food they miss from home," added Chen.