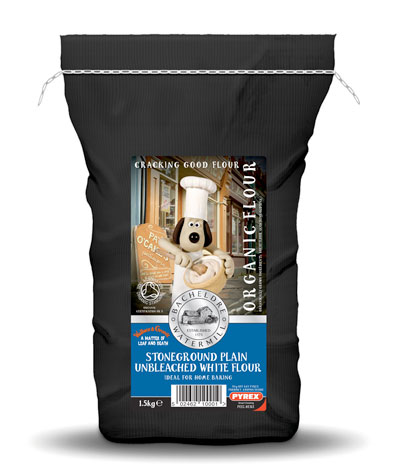 Bacheldre Watermill is proud to announce its partnership with Aardman Animations and Pyrex, for the launch of Wallace and Gromit's new adventure film 'A Matter of Loaf and Death'. Bacheldre Watermill is offering fans the chance to copy the pair's latest baking bonanza by launching a range of limited edition Wallace and Gromit stoneground organic flour.
The film, which is to be premiered on Christmas Day at 8.30pm on BBC One, will see the pair transform their invention-stacked home into a fully functioning mill and bakery, Top Bun, but not without all the action and adventure we've all come to expect from the duo.
Bacheldre Watermill is a a small family run mill, which has won numerous awards for their flour and is used is in some of the best kitchens around the country. Using Artisan skills and only the highest quality grains they have been able to grow the business year on year, and now are looking forward to the future working with such great brands as Wallace and Gromit and Pyrex.
So, if you fancy inventing some recipes of your own, why not try Bacheldre Watermill's organic range to give you some inspiration. The True Taste* award-winning flour millers, who specialises in bread-making and home baking flours, have rolled out seven beautifully packaged Wallace & Gromit flours to celebrate the duo's new baking credentials. Each promotional pack includes a 50p off Pyrex products and two recipes donated by leading food writers, chefs and bakers.
Bacheldre Watermill will be launching a range of new products this Easter to get more people in the kitchen baking cracking good food!!
The limited edition flours will be available in Waitrose and leading independent retailers.