Petersham Nurseries, Off Petersham Road, Richmond, Surrey, TW10 7AG
Tel: 020 8605 3627 www.petershamnurseries.co.uk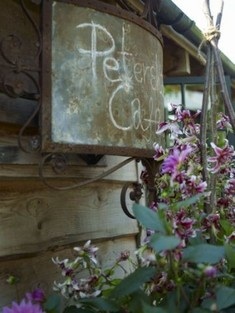 Not many restaurants are housed in a greenhouse, but then not many restaurants are like Petersham Nurseries. Originally the teahouse to the charmingly ramshackle garden centre located just a few steps away from the Thames, it has grown under Skye Gyngell's inspirational cooking to become a real dining destination. Although the desire for alliteration obscures the fact that, to be accurate, it is only open at lunchtimes except on very special occasions.
Tucked away as it is it's not easy to find parking, and the local council have not been helpful, but on anything but a very wet day the walk from Richmond station is a delight. You soon leave the town behind you and go across ancient meadowland to arrive at the door. It's a simple fifteen-minute walk, or the 65 bus from the station takes you there in no time at all. Given that the restaurant's continued existence is rather dependent on cutting down car traffic to the site, I do recommend you take the alternative options if at all possible. And you'll work up an appetite
The plea for public transport notwithstanding its not very often that the small car park isn't full and often full of 4x4s, Richmond being that sort of place. In fact until recently it has been true that the restaurant mostly attracted a well-heeled crowd happy to pay pretty high prices for the pleasure of sitting at gloriously mismatched tables wobbling on a beaten earth floor. The atmosphere and the food are worth it though, with an ever-changing menu that is determinedly seasonal and simple, relying on the best ingredients and not fancy presentation or exotic items to make an impact.
Obviously eyeing the credit crunch nervously, the restaurant has now created a three course lunch menu for £27 which is pretty good value. Four starters, four mains and four desserts make the choice simple without being too restrictive. On the day I went, the starters comprised a Mezze Plate, Scallops with winter leaves, Mussels with saffron and spinach and Grilled Chorizo with lentils, caprini fresca and agresto. As I love Chorizo it was the latter I opted for and the large hunks of sausage cut lengthways didn't disappoint; cooked just enough to encourage them to weep their delicious oil but not so much that the plate was submerged. This gave the tender lentils a chance to shine and the cheese stood stark white against the plate with just a splash of green from the agresto to sharpen its taste Agresto being a simple sauce made from parsley, nuts and Skye's favourite ingredient Verjuice, the juice of unripe grapes.
A main of pork belly slow roasted to break down the meat into gelatinous fibres was melt in the mouth tender, while the crackling was as crispy as it should be. With every restaurant now on the pork belly bandwagon this was a lesson in how to do it properly and the presence of tender late season purple sprouting broccoli and some glossy, mealy, white arrancini beans made a fine contrast in textures. A little dab of salsa verde added colour and sharp tone.
A lovely Winter Rhubarb Steamed Pudding was a delicate and delicious little thing, although I was surprised to see forced rhubarb available before January. But that's the beauty of having a restaurant with a vegetable garden – so much is available and the kitchen can be spontaneous in creating menus around what's in season on the day.
Petersham Nurseries is a little treasure often in danger of being crushed by big bureaucracy. The food is always imaginative, deceptively simple and squeakily fresh and it's definitely somewhere to savour. But do book well in advance.
Nick Harman