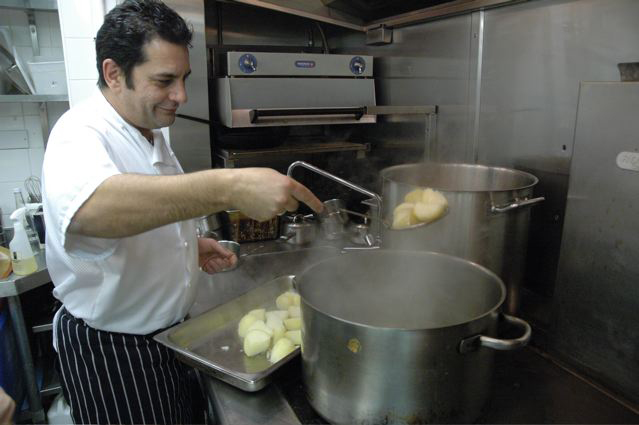 We all love a golden, crunchy roast potato and never more so than on Christmas Day. Whether it's a turkey, pork, goose or beef dinner the one thing we all agree on is that it's not right without a roast potato or two. But how do you make them perfect? Check in any recipe book, or ask your mum, and you'll get varying opinions on cooking times, type of spud and even what kind of fat to use. At this time of year it seemed vital that we solve this mystery quickly and so we persuaded a top chef to cook us up a pile of spuds and work out once and for all how best to get a right roast result.
'I once cooked at an RAF base," says Santino Busciglio Head Chef at Number Twelve, nominated for Harden's Best Italian Restaurant of the Year, 2008, wistfully as he peels potatoes and plops them into the large pan, looking as he does so every inch a squaddie on punishment detail. His knife is a blur as he slices off the potato edges. 'I'm not turning them," he says quickly, referring to the practice of making cheffy shapes out of spuds. 'Just evening them out a bit so they all cook the same." Although boasting a very Italian name, and capable of massive bursts of Italian at his team, Santino is very British and loves a family roast dinner as much as anyone. He jumped at the chance to be our expert chef and has generously given us his time in the kitchen just one week before the big day and between a busy lunchtime service and a busy evening one yet to come, to cook five lots of roast potatoes in five different fats.
How to get into hot water

Before we get to the fats though, Santino lays down the ground rules of roasting as he sees them. 'Peel red potatoes, cut into even sized chunks and then wash to get rid of the starch,' he says waving his small knife about for emphasis. 'The red skinned potato doesn't absorb so much water and it has the right floury texture because it's that fluffy exterior that's going to form your crunchy crust! You know the delicious bits left in the roasting pan when you take the spuds out? Well that's what you want attached to the potatoes when they get to the plate."
He recommends plenty of water, to make sure the starch released in cooking gets a chance to get away from the spuds, and to put a decent amount of salt in the water. 'The salt isn't just for changing the water density, it has to actually get into the spuds so don't be shy about it,' he says showering rock salt in. 'And use decent salt!' he insists, 'not the basic salt, that stuff is just potassium and has no place in a kitchen just de-icing your path.' As to quantity of salt to use he has a simple rule, 'Season with courage, stick your finger in the water and taste. That way you know what you're doing. I can't stand any chef in my kitchen who isn't tasting as he goes along. I taste everything at the pass before it goes out and if I catch a dish wrongly seasoned, well that's when the spoons start flying! Eh boys?' He lets out some Italian at his staff and they laugh.
'Now the thing is you don't want to only par-boil the potatoes as some people say,' he says manoeuvring the large pot up onto the flat top stove. 'That's a mistake because when they are in the oven the oven is doing two jobs, crisping and cooking and it should only be crisping. If the spud is still uncooked in the centre then once in the oven that uncooked core is pushing out moisture which isn't going to help get you the crunchiness. You want the spuds cooked through before you put them in the oven.'
As to boiling, Santino has firm views there too, 'Cold water and the lid off the pan so the spuds come to the boil slowly. This gives that centre a chance to cook. The water should come to a reasonable boil, not a mad one, but you do want enough turbulence to get the edges of the potatoes a little knocked about to give you the crispy bits.'
The oil issue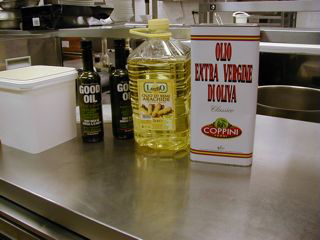 With the spuds coming up to the boil we repair to the main restaurant where, at 5pm, lunchtime guests are still lingering over drinks. It's part of Number Twelve's attratcion that, in addition to Santino's excellent cooking, restaurant manager Antonio Cerilli's charm on the floor makes the restaurant a constantly warm and friendly place where people feel relaxed and happy to hang about. We sit down to discuss the oils we are going to use.
We have duck fat, virgin olive oil, groundnut oil and a heavy and a light version of hempseed oil which the makers, and Hugh Fearnley-Whatsisname, all say makes great roasties. Santino and I taste test a few olive oils from his kitchen – their normal olive oil for cooking, the special oil they put on the table to go with their excellent homemade breads and one that Santino reverently brings out, the tin wrapped in clingfilm and with a big label in Italian saying 'Chef's! Do not touch!' attached to it. This is his personal oil to be used only on the best dishes. Tasting them all we agree that the good ones are not to be used to roast as the high temperature will change them physically and take away their delicate spicy and grassy flavours. So the basic, although good quality, olive oil it is.
Tender makes it right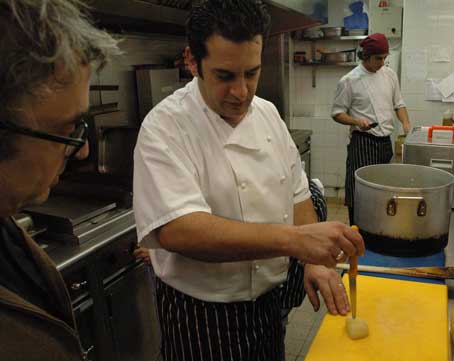 Back in the kitchen after around half and hour the spuds are tender, yield to the knife all the way through and are beginning to crumble at the edges. 'Perfect!' Says Santino. Rather than risk them getting mashed by tipping into a colander, he delicately takes them out with a slotted spoon a few at a time sharing them out into five separate bowls before gently coating each batch with just a small amount of each oil. Santino does not believe in tossing the spuds in oil and trays already red hot from the oven. 'Just a lot of spattering and mess,' he says, 'you don't need that when things are already busy enough.'
He puts them onto five separate trays, 'as much space around them as you can, so the heat gets to them', and sticks them into a non fan oven at around 220C. We make a little map of which tray is which and then go back to the dining room where people are drifting in from the bar and already being served food. Santino sends one of the team to make us plates of duck meat in pasta, to keep us going until the spuds are done, and Antonio produces a bottle of La Salette Valpolicella 2007 to keep the pasta company.
'I don't believe you need to coat the potatoes in flour or semolina as some people do and I don't touch the potatoes once they are cooking,' Santino says, 'it's another hassle you don't need and I think they are crispier when left alone.' This latter tip gives us more time to drink, which is always welcome. Soon time is up, about thirty minutes, and we let the team get the spuds out and using our map, label the dishes underneath so that we can't see which is which. A proper blind tasting by people not yet blind drunk.
Spud we like
The early diners don't seem phased by the sight of trays of roast potatoes coming to our table and it has to be said that they all look perfect – golden with nice toasted edges. All have crunch but as Santino, our photographer Al and I go around them, the tastes certainly vary. After some Oz Clark'ing about, talking about taste, length and only just refraining from holding the spuds up to the light, we are all in agreement. Step forward, surprisingly, the olive oil closely followed by the groundnut. Duck fat and the hempseed oils we all agreed overwhelmed the spuds while the winner has crunch and colour and importantly tastes of potato, and not the oil it was cooked in.
So there you go, in brief the recipe for a great roastie is:
Red potatoes, peeled washed and slowly boiled in plenty of water until almost falling apart, about 40 minutes
Lightly coat with olive oil, not your best but reasonable quality virgin.
Cook on a tray for about 30 minutes not cramming too many onto one tray
Serve as swiftly as you can.