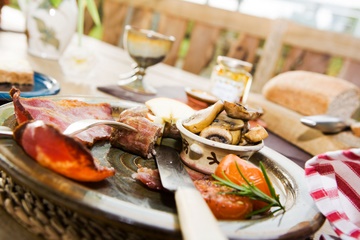 Members of Farm Stay UK, the biggest farm accommodation organisation in the UK, are preparing to crack hundreds of eggs and fry thousands of rashers for Farmhouse Breakfast Week which takes place from 25th – 31st January 2009.
Working alongside local producers up and down the country, and serving up breakfasts in some unusual locations, Farm Stay UK members will hold all day breakfast events with proceeds going to charity.
Steaming hot plates of local sausages, thick slices of proper bacon, newly laid eggs, and all the trimmings; proper crusty bread, homemade jam and creamy butter will be served – plus fresh fish in some coastal farms too.
The annual Farmhouse Breakfast Week event, which celebrates its 10th anniversary this year, highlights the importance of eating a healthy breakfast every morning. This year with a new theme of 'Think Breakfast' the campaign hopes to raise awareness of the nutritional value of breakfast. Visitors to any of the Farm Stay UK breakfast events will certainly get one of the best, local, and freshly cooked breakfasts available anywhere in the UK.
Ruth Tuer, North West regional Director of Farm Stay UK comments: "We live in an area which is rich in local produce and so we really are spoilt for choice. Everyday we serve up fabulous food at breakfast time and people always comment on how much they enjoy sitting down and eating a proper breakfast. So, for Farmhouse Breakfast Week, we'll be showing people just how good it feels to eat great, locally produced, home cooking."
Local butchers, bakers, growers and farmers will be supporting Farm Stay UK breakfast events by donating ingredients, many of which have come from within a 10 mile radius of the farms.
Ruth Tuer and the team at Crake Trees Manor in Penrith, Cumbria will be spending the whole day on Friday 30th January cooking up breakfasts including bowls full of locally milled grains, home grown Spelt and home-made granola and muesli, fresh local fruit, dairy produce from the farm, local seafood and specialist Cumbrian Cheeses. Breakfast will be available from 10am – 2pm and all money raised will be donated to the local church fund.
For more information about Farm Stay UK please visit www.farmstayuk.co.uk, or to become a member please contact Andy Woodward on tel 02476 696909.