Fergus Henderson and Trevor Gulliver's latest venture the St. John Hotel is set to open in London on December the 1st. The hotel in London's Chinatown will be on the site of Manzi's, the well known Theatreland landmark.
Details on the new St. John Hotel are sketchy at the moment but according to the press release the restaurant will be on the ground floor with a bar above. The hotel will have 15 rooms including a suite on the top floor.
The restaurant at St. John Hotel will be open until 2.00am, so late night dining looks set to be a real thrill. Gulliver says, 'We think that it is only fair that folk can eat a little later if it suits them and indeed, the orchestra and cast get a chance too!"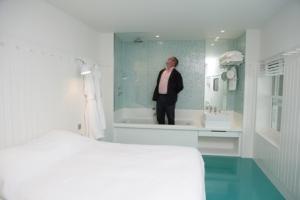 Rooms will start at £200 and their deco will be inspired by a "mini grand, urban hut" theme. Matthew Rivett who has previously worked at The Ritz will be taking on the role of General Manager at the St. John Hotel whilst Tom Harris will be moving from the kitchens at St. John Smithfield to head up the new Kitchen.
The St. John Hotel are already taking reservations so call them on 0207 251 0848 if you fancy being one of the first visitors.