Sycamore Vino Cucina is an all-day Italian restaurant and bar  in London's latest destination, Middle Eight, a new lifestyle luxury hotel.

Located on Great Queen Street, Sycamore offers a contemporary yet authentic slice of Italy to welcome the summer in the heart of Covent Garden.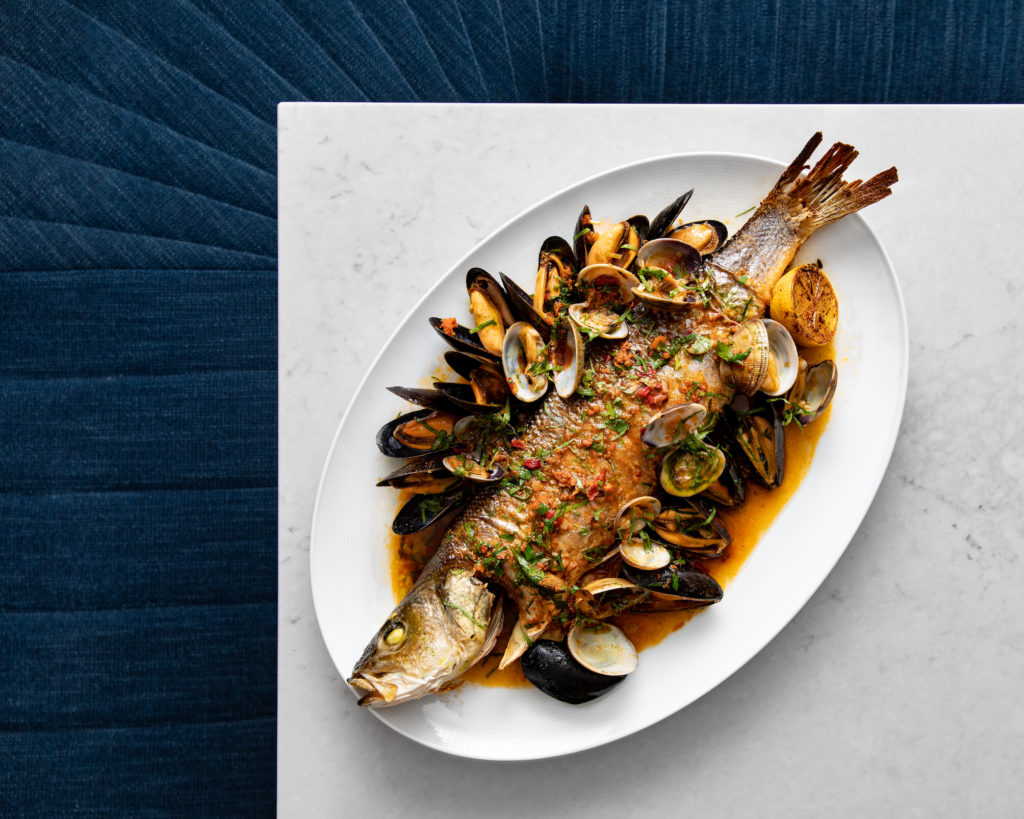 Head Chef Paul Robinson has created a food offering that draws inspiration from his time in northern- Italy, using authentic and seasonal British produce. Handcrafted menus are inspired by regional Italian produce combined with contemporary flair, and dishes are aimed at sharing with pizzas, small plates, and a delicious selection of cicchetti (Italian 'tapas'), as well as larger pasta and 'secondi' dishes. 
Signature dishes include:
Sgombro bruciato (torched mackerel, horseradish, pomegranate)
Bistecca di manzo (35-day aged longhorn porterhouse, whipped potatoes, spinach)
Gamberi al griflia (grilled prawns, warm potato salad, cornichons)
Crostata al cioccolato (Dark chocolate tart, Italian meringue, hazelnuts)
The 89-cover bar offers seating for guests to enjoy drinks from the restaurant's signature drinks menu showcasing the best of classic Italian mixology. 
An extensive Negroni section offers not one but 15 varieties of the cocktail. Complementing the Negronis are Bellinis and Grappatinis, as well as signature cocktails including the eponymous The Sycamore (gin, elderflower cordial, grapefruit bitters and prosecco). Guests can also browse the curated wine list championing small-scale producers from northern Italy including the regions of Piedmont, Lombardy and Tuscany.  
Sycamore's breakfast menu, served daily for hotel residents and drop-in guests, offers lighter options such as Quinoa and Chia Seed Porridge, through to more substantial egg dishes including Whipped Eggs on Brioche (served with smoked salmon, nduja or avocado).
Signature dishes include The Sycamore Breakfast (two eggs any style, thick-cut old spot pancetta & salsiccia tomatoes, with sourdough) and the Nduja Breakfast Pizza (soft poached egg, nduja, pine nuts). A choice of smoothies and juices, ethically sourced teas and Italian coffees using beans from Musetti complete the menu. 
Sycamore is located within the new lifestyle luxury hotel Middle Eight, whose name derives from the musical term 'middle eight', a musical interlude that differs in character from a song's melody and is used to inject variety through change. The hotel aims to emulate this – adding to the vibrant, bustling nature of Covent Garden with its luxurious and modern accommodation, while still retaining the heritage and character of the neighbourhood.   
@sycamore_restaurant
@middle_eight_hotel