The Huntsman & Hounds is a boutique traditional pubthat prides itself on focusing on the small, local hero brewers and distillers  – from Walworth to Battersea and a little beyond.
After a pandemic that has devastated bonding in local communities the Huntsman & Hounds is keen to bring the local residents who stepped in and petitioned to save the pub from developers in 2017, back to the widely loved pub.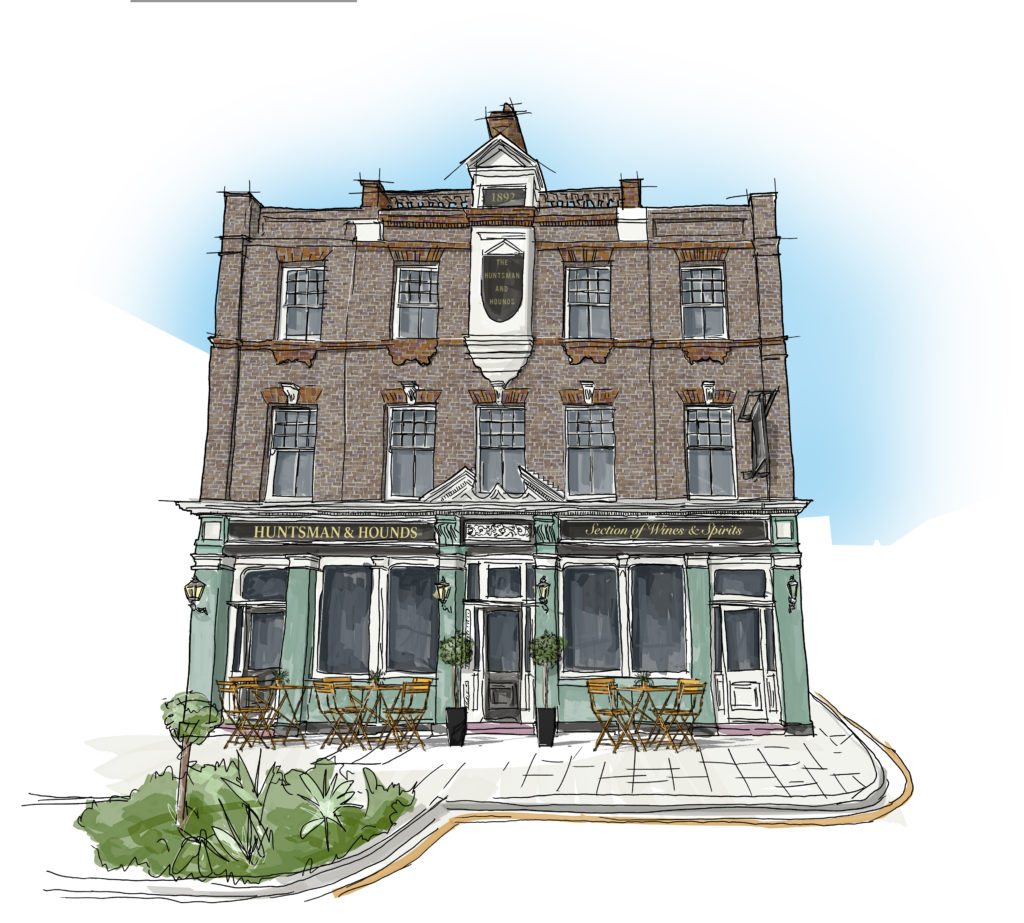 New manager Ashley Martin Front has crafted a singular drinks menu and is deeply passionate about her beer, spirits and wine choices, with each drink carefully selected based on her personal connections with the brewery and distillery. The drinks menu cleverly shows how far your drink has travelled from the brewery or distillery to the bar.
On entering the Huntsman & Hounds, customers will be  greeted by Ashley's knowledgeable staff who will talk and guide them through a tidy selection of ever changing drinks, offer tastings and identify their guest's preference for a glass or two to enjoy.
In keeping with the ethos of Huntsman & Hounds, the short food menu will be changing often and guests will able to enjoy a selection of toasties with seasonal ingredients and paired with beers such as:
Gruyere, with prosciutto and sage
Anspach & Hobday | The Ordinary Bitter | 3.7%
The nutty and caramel flavours of the beer beautifully contrast with the salty notes of the meat and the creaminess of the cheese.
Haloumi with with honey, fig and cumin,
Orbit | Tzatziki Sour | 4.3%
The refreshing sharpness from the beer cuts through the sweetness of the honey and fig, a beautiful pairing.
THE REUBEN – Salt beef, Swiss cheese, sauerkraut and mustard mayo
Howling Hops | Dinner Ale | Red Ale | 5.2%
Beef & ale? Yes please! A great red ale to match a great toastie.
The Victorian pub houses a beer shop on the ground floor and  plays host to Events / tasting / local area initiatives.  
With a passion to educate enthusiasts further, Ashely says "The Huntsman & Hounds  focuses on the unique beverage producers of the industry who rightfully deserve their share of limelight going against the grain of local expectations."
Address:
Opening Hours: : Tuesday to Thursday 4pm – 11pm; Friday to Sunday: Noon– 11pm
Capacity: 60 internal / 20 seated outside
Reservations: thehuntsman@markettaverns.co.uk
Website: thehuntsmanandhounds.co.uk
Social Media: facebook and Instagram: huntsmanhoundspub