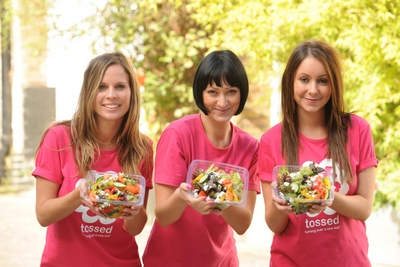 Tossed, the fast casual healthy eating venue with a focus on big and tasty salads, is the latest addition to London's Tottenham Court Road, famous for its concentration of consumer electronics.
Located at the Qube, the newest Tossed location in Fitzrovia's business district reflects the electronics retail heritage. Quirky and vibrant images of melons are in the shape of speakers and strawberries mimic lightbulbs. With catchy lines such as 'do ipeas come in ipods?', Tossed brightens up the day of those visiting for breakfast and lunch, with an invitation to 'scrap the satellite dish for a salad dish'. The menu offers more than 20 house recipe salads, freshly made on the spot and tossed to order. You can also create your own from a choice of over 100 ingredients and cold or hot bases, including salad leaves, egg noodles, and slow energy releasing cous-cous and brown basmati rice.
Tossed counts calories and nutritional content, packs superfoods and protein, does not add salt to its foods, users low GI carbs, ditches mayo for fat free yogurt to bind ingredients, and its smoothies provide 100 percent of your daily fruit in one hit. Most salads average 300 calories. Using low fat and slow energy-release foods, one can fill up on Tossed's big portions, without guilt. There is a mouth-watering range of hunger-busting salads, sandwiches, wraps, smoothies, soups and stews, to offer something for everyone, with a 'value' salad range starting at just £2.95. A large Tossed Signature salad, packed with farm assured chicken breast, mozzarella pearls, red grapes, apple, toasted cashews, sun-dried cranberries tossed in champagne raspberry dressing, is just 435 calories and is only £4.95. Tossed's delicious Signature Salad combines chicken breast, mozzarella pearls, toasted cashew nuts, sun-dried cranberries, is tossed in champagne raspberry dressing and sells from £3.95.
Nutritional information is displayed in-store, but you can also select the nutritional calculator at www.tosseduk.com to build your very own, calorie counted salad.
Tossed offers free lunch for a year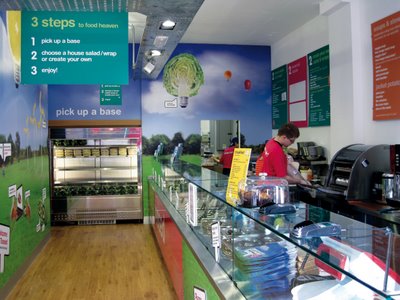 Look out for the Tossed girls handing out fresh bananas in various locations around town, from Covent Garden to Westfield and pick up an entry form from a nearby store. Until the end of April, you can 'Win lunch free for a year for two' when you eat at Tossed. Aimed primarily at office workers, entrants simply go to the website www.tosseduk,com, print out and fill the form, then hand it into a Tossed store when with any purchase. It's as easy as that! The winner will be drawn at random from all entries received by 30 April.
What's more, the company with the most entrants in the competition will win a hamper packed full of Tossed goodies for the office to share.
Tossed at The Qube, 101-106 Tottenham Court Road, London W1T 5AB; Tossed at Harrods102, 102 Brompton Road, London SW1X 7ZY;Tossed at 10 Sheldon Square, Paddington Central London W2 6EZ; Tossed at Westfield London, The Balcony, Ariel Way, London W12 7GE; Tossed at 101 St Martin's Lane, Covent Garden, London WC2N 4A Tossed at 31-33 Baker Street, London W1J 8EJ www.tosseduk.com