Turul Project is a new Hungarian restaurant, wine bar, and deli focused on premium ingredients and quality wines, sourced directly from Hungary
Now open, Turul Project serve a concise fine dining menu, inspired by traditional dishes and delivered with a contemporary twist.
Situated in a light, airy 1930s Art Deco building originally attached to Turnpike Station in North London, the new site is Turul Project's new permanent home, having started out as a pop-up and series of supper clubs in 2018.
Founded by István Ruska, Turul Project was born out of a desire to showcase Hungarian cuisine within a modern fine dining setting.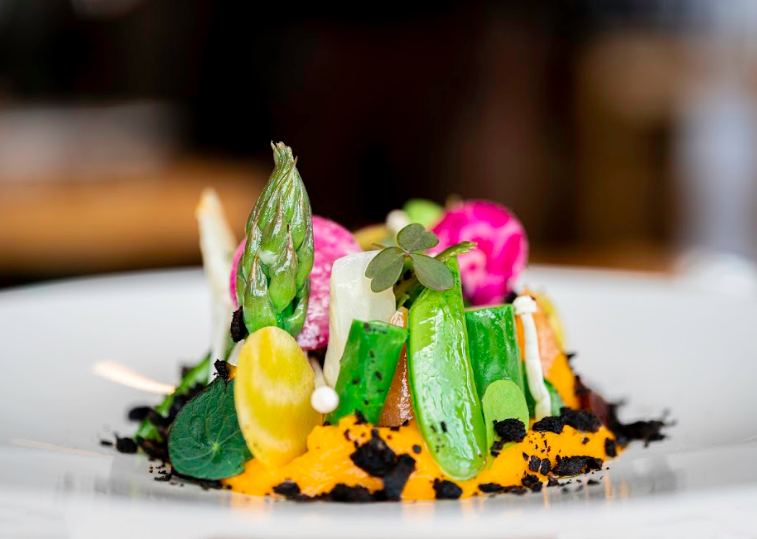 The restaurant is led by Head Chef, 29-year-old Levente Koppány from Budapest. Winner of 2020's San Pellegrino Young Chef for the Central Europe Region, Levente was sous chef at Salon Restaurant and New York Cafe in Budapest, having previously spent a stint in London restaurants Salt House and Pied à Terre.
With a focus on sustainability, Levente combines his passion for authentic Hungarian produce and ethically sourcing ingredients with technical skill and creative flair.
Examples from the menu, which start at £8 for starters and £16 for mains, include:
Goose liver, "Tokaji Aszù", brioche, granny smith, cabbage
Monkfish "Paprikas", pasta, curd cheese, sour cream
Hare, bread dumpling "Vadas" style, carrots
'Ludláb' torte, brandied cherries, cherry sorbet
The wine bar, which launched earlier, boasts an unrivaled selection of Hungarian white, red, and dessert wines, as well as rosés and sparkling wines, many of which have never been represented before in the UK.
Open 7 days a week, the wine bar serves an array of wines by the glass and the bottle from across Hungary alongside bar snacks, charcuterie and cheese boards.
A perfect introduction to what is becoming one of the world's most exciting emerging wine regions, Turul Project's ever-changing wine list is designed to educate and inspire. 

The deli and café boasts an array of ingredients, imported directly from producers in Hungary. Focusing on
'free from' and organic products, many of which are Great Taste 2020 winners, Turul Project's deli offering
is truly authentic and of the highest quality.
Also, on offer is a unique collection of Hungarian delicacies,
such as truffles, goose liver pâte, artisan honey, local charcuterie, oils and confectionery.
Opening times:
Wine Bar 3pm-10pm Tue-Sat
Restaurant 6pm -10pm Tue-Sat
TURUL PROJECT
1 Turnpike Parade
Green Lanes
London
N15 3LA
0208 888 9886
info@turulproject.com
@turulproject