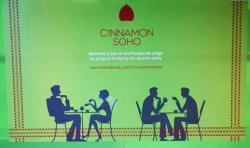 'All Balls!' screams the menu. But it's not. In fact, it never is with Vivek Singh, whose culinary rambles from continent to continent deliver time after time. Cinnamon Soho is his shiny new venue- bringing Singh's trademark collision of Indian flavours and European sensibilities to West End diners.
Appreciative ones, hopefully. When they're being offered a menu pushing dishes you rarely see outside Indian neighbourhoods alongside ones you'd not encounter at all were it not for Singh's eccentricity, one would expect a level of gratuity. Brains, haleem and golgappas- crisp explosions of sour, sweet, cool and hot- deserve a rapt audience.
As do daily specials like Nepalese momos, here made with lobster, or Punjabi-style fish and masala chips. That 'All Balls' platter, meanwhile, delivers a spherical cornucopia of Goan-style crab cakes, potato bondas, shikampur, kofta, silky lamb-and-lentil shammi kebabs, and that old favourite, the nargis kebab, or 'Bangla-Scotch egg'. Fusion confusion at its storming best.
For a small venue, Cinnamon Soho boasts an unusually large menu- unusual, too, in its consistency. Spanning all-day tapas-style nibbles, set menus and specials, full meals, and the sheer comfort of 'kitchri, kedgeree and pies', this kitchen has it covered. Even desserts are worth sticking around for, featuring gooey gajar halva rolls and lassi pannacotta.
Vivek's not upping his game, indeed, he doesn't need to. Cinnamon Soho is the mark of a man firmly at the helm, taking a leisurely diversion into slightly more accessible, playful territory. A chef who's not afraid to get down with the masses, shake things up, and proudly shout 'balls!'. And for that, sir, we salute you.
Visit www.cinnamonsoho.com
We talk to Vivek Singh about Cinnamon Soho