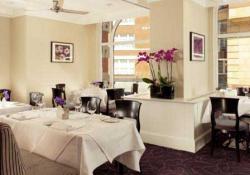 I thought I knew London well, but The Courtyard at 51 was a real surprise. Hidden away in a quiet street in Victoria just minutes from the station is a secluded alfresco eating and drinking spot that I had no idea existed. I don't mean a tiny terrace or narrow pavement that is so typical of inner London outdoor spaces: this atmospheric area with an elegant fountain as its centrepiece is a spacious oasis.
Visitors can enjoy afternoon tea in the leafy surrounds of Courtyard at 51 – hopefully in the sunshine – with sandwiches, scones and of course, tea. And on a couple of very special summer evenings, it becomes its very own opera house. August 18 and 24 sees a specially devised three-course menu that will accompany performances with piano and a string trio. The price tag may be £99.50 but the food is high quality and opera buffs can look forward to an intimate evening with the likes of acclaimed performers such as Helen Winter and Nicola Stonehouse.
Smokers will delight in the practically unique experience, in London at least, of being able to light up while having a drink – cigarettes and shisha pipes can be enjoyed in a designated area of the courtyard. During the summer expect a barbecue menu including kebab wraps and marinated chicken and live music on Saturday nights.
The weather may not be perfect as most of us in the UK have pretty much accepted, so you can always take refuge in the 
Cocktail Haven at The Hamptons Bar. Here general manager, Prabhat Verma introduced to me to the newly launched signature cocktail, the St. James Drop and the ethos of 51 Buckingham Gate. Part of the Taj Hotels Resorts and Palaces, the five star hotel  supports important charities back in India.
Verma also let me in on another little known fact ­Ã¢â'¬â€œ 51 Buckingham Gate is the only place in London where visitors can enjoy a horse-drawn carriage ride. Guides take you on a magical ride back to a 19th-century British tradition, pointing out the landmarks of history-filled Westminster. Although these ring in at a hefty £150, carriages are big enough for four, making it relatively reasonable for such a memorable experience, especially for little ones. Those with children may welcome the new association with Hamleys, that iconic London toy shop. Anyone staying in one of the family-friendly suites get the full Hamleys treatment, with hamper, bespoke tour and personalized cooking lessons with the hotel chef.
Bistro 51 prides itself on making the best of fine local produce sourced with real care. The cuisine is a bold mix of mostly British, Italian and Asian influences with the menu changing frequently to make use of seasonal ingredients. I welcomed the relatively concise menu and clean presentation, with some lovely touches, such as the use of delicate, edible flowers sprinkled on some of the dishes. Starters such as rock oysters with charred lemon and seared tuna with grilled watermelon were imaginative without being too showy. While meat may not feature much in the first course, there are plenty of mains to satisfy die hard carnivores, with all cuts coming from Allens of Mayfair, London's oldest butcher shop.
The 'British Specials' of British beef and good old fish and chips will please most traditionalists with signature dishes striking a rather more contemporary note. Of these, I have to admit the duck and orange sausage with foie gras didn't appeal as much as the more straightforward homemade ravioli with sage butter. My recommendation would be something from the 'Classic Grill' menu, from which diners can create their own combinations – such as red snapper or salmon with a choice of butter dressings or some fine cuts of meat accompanied by a variety of classic sauces.
Coastal cuisine from Southern India is on the menu at the restaurant at 51 Buckingham Gate: forget any idea of oily or heavy dishes, the menu is awash with seafood and lighter dishes, all beautifully presented. The signature salad was a confident yet delicate balance of strong flavours and colours – pink grapefruit, roasted beets and goji berries.
My seafood moilee of cubes of halibut, grouper, tiger prawns and potato was just as this classic curry from Kerala should be creamy, richly flavoured with coconut and just a hint of spice. Recently reopened after a successful and extensive refurbishment, this restaurant has been awarded a Michelin star for six consecutive years. So, while the courtyard, the horserides and the Hamley connection of this lovely luxury hotel in Victoria may be a bit of a secret, this restaurant – Quilon is not.