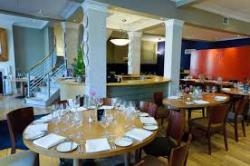 Without doubt this topped my list in terms of customer service. If you permit me to gripe, dotted around the country you'll find some areas are a little close-minded. New inventions happen everyday, so stop trying to come up with the next billion-dollar company and simply improve your customer service. 60 Hope Street really shines as far as welcoming people into their world and the food is brilliant.
Colour. That's what hit me first, even though strictly speaking, it's got an undercoat of a well-funded member's club. High ceilings, fireplaces, polished wood, crisp glass and right angles. That's only if you strip away the splashes of bold tones some bloke painting a field in Stratford-upon-Avon would use. Proper fruit pastilles stuff.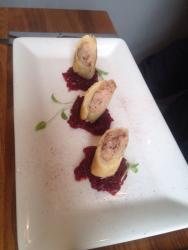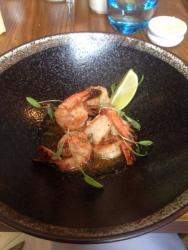 Now, my starter was on the specials menu, so apologies that you may not get to try it, but pulled pork crispy spring rolls, come on, you'd have them and all. Plus, just to rub the salt in, they were epic and the best starter I had in Liverpool. I couldn't care less if there wasn't some swirly pattern from jus made from Jesusfruit, there are more difficult starters out there, but matching flavours and getting a dish just right is a talent.
To be fair I'm on the cusp of over-egging it and it'll probably turn out to be a last minute couldn't-be-bothered moments from the kitchen. I don't reckon so, first of all the pastry was spot on. Not a touch of sogginess despite being rammed full of moist pulled pork. It wasn't too crunchy and stale, it wasn't too soft and mushy. Then there's the pulled pork, which you'd definitely buy a pint and let it date your sister. Top pig action. There's even some red onion marmalade and a few leaves on the plate. In fact, it's a really artistic plate, if anything I talked it down. What a tosser.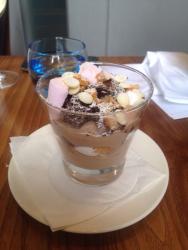 I had fish and chips for main course. I don't know why I do it, but the better I like a place, the more compulsed I am to order the classic dishes. Fish and Chips, Steak and Chips. Bring it on. Except no steak this time. Beautiful fish and chips though, the best I've had. Now, don't get me wrong, there are two types of fish and chips. There's your on-your-lap fish and chips, and there's your knife-and-fork fish and chips. This wasn't your after work chippy variety, this was proper elegance. Brilliant.
I had no idea what a Rocky Road Ice Cream Sundae was – purely being honest. Admitting that fact got a wide-mouthed shock expression from both the waitress and my female companion, almost as if I'd punched a kitten in the face and stolen its pocket money. Pretty obvious to understand such a reaction when you realise it's basically ice cream and as much extra sugary bits and pieces thrown in together. Chocolate ice cream, butterscotch sauce, honeycomb crunch, pink marshmallows and white chocolate buttons. I'm a savoury over sweet guy, but if you are going for sweet things, this is a cracker.
60 Hope Street topped my list of places I visited in Liverpool. It's held in high regard locally as a good place to eat but it's so much more than the outstanding cooking. The look and feel is fresh and welcoming, the food really is top notch and the customer service is impeccable. I would put this at the top of the list of places you'd want to try if you were in Liverpool. Get the longer-established venues into your list, obviously, but make sure you prioritise this place. Go for the cooking, stay for the service.