5 Clipstone Street, Fitzrovia WIW 6BB  theluckypig.co.uk
Lucy Self goes underground to sample cocktails and pizetta.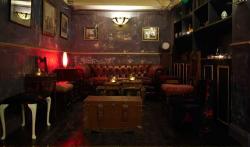 I've always had a fondness for a basement bar. Particularly a slightly grotty one. Not sure if it's the stepping down into its murky depths, the metallic smell of musty damp, the seedily lit corners or the relentless thud of tune and chatter on bare brick walls, but there's something about taking one downwards which creates instant sex appeal.
It helps that the majority of underground bars are inspired by the speakeasies of the 1920s – where anything went and everyone looked beautiful – but in the history of my own good times, its simply that straying one level below the streets has translated into some memorable evenings (one involving Portsmouth's worst flood in 20 years, a dance floor packed with drunk people doing their best sexy dance and a swiftly rising water level).
Whilst the best basement spots retain that essential smattering of scum around the edges, that doesn't mean skimping on the finer details – a skillfully shaken martini and a candlelit table for example. And, because drinking cocktails on an empty stomach is a mistake a lady will only make once in her life, a bit of decent food too. 
Having stepped into (or, should I say, down to) The Lucky Pig, a below ground bar just off the Regent's Park end of Great Portland Street, with the above expectations, I was pleased that it, for the most part, met them. There were those wrought iron stairs you always wonder how exactly you're going to climb after a few Champagne cocktails. The thick (but not unpleasant) air of a spot unseen by the sun's light. The nooks, crannies and barely illuminated booths I'd like to think have hosted many an illegal or lustily inappropriate liaison.   
The fact that the bar's inspired by illegal drinking dens of yore is obvious. From the name, which derives from a'blind pig' (one of the widely used monikers for speakeasies in the 20s) to its art-deco décor (vintage posters, stained-glass lamps and dark lacquered bar), the references are not what you'd call subtle but they do the job. So much so I found myself longing for a reversal of the smoking ban (if there's one thing The Lucky Pig is missing – it's the softening blanket of fag based fogginess).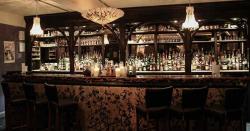 The reason for the visit was to sample the recently refined cocktail list and the addition of a short selection of pizzetta. Despite the corniness of the former being divided into'great historical figures of the past' including Winston Churchill and Mae West – the concoctions themselves were hard to fault. My Rum Old Fashioned zingy with orange zest and blended with the confident hand of a bar person who understands that tasting the booze is the whole point. A'confidence' which continued through a cracking Side Car and their take on a classic Manhattan (made with bourbon-infused monkey nuts which sounded silly but tasted terrific).
No one is sorrier to say this than me (after two moonshine-strength cocktails I was salivating at the thought of a perfect crust) but the pizzetta didn't work. The top lacking in colour, the bottom soggy and the centre still raw. All a real shame as, had they been cooked a bit longer, it was clear that the vibrant toppings were of the highest quality. I'm hoping the man behind the oven was having a bad day, because if he can crank up his oven to blistering and hold his nerve when getting those little pizettas out, it will add another string to its already rather attractive bow.
But mini disks of dough aren't really what The Lucky Pig is about (that would be having a grand old time whilst supping cocktails and talking to attractive people in dimly-lit corners in case you hadn't followed thus far). When I climbed the stairs back to street level a few hours later, having knocked back a couple more Peanut Manhattans and swayed unsteadily along with the live band, did I care about soggy pizza crusts? Nope. I was just glad I didn't disprove the theory that basement bars = fun.