Adagio Pizza al Taglio, 10 Greek Street, London W1D 4DH www.adagio-pizza.com
A proper pizza is all about its base. Forget the telephone takeaways with their emphasis on 'fill you up' bottoms, which have more in common with old mattresses than they do with a real pizza. And as for gimmicks like stuffing the crust, what on earth is all that about?
And a pizza should be light on toppings, it's supposed to be a snack not a meal, and the base should be as much a star of the show as anything else. Adagio in Greek Street know this and have gone to great lengths to make their bases top hole.
Shelley the Chef/Manager looks a bit like a roadie for an American rock band but has the love of dough that marks out the artisan from the amateur. Working with yeast is something not every chef can do; it involves listening to the dough, knowing by touch when it's ready, sniffing the air for humidity and heat and being in tune with the yeast's life cycle. Before getting Adagio up and running Shelley, a trained classical chef, spent time in Rome, renowned for its tradition of pizza al taglio 'by the slice' doing his research . 'We ate in what seemed like every pizzeria in Rome to find that unique 'crunch', 'he says. ' Amazingly, we found it in the last place we tried, in a small neighbourhood pizza place – it was a real 'Eureka' moment! I ended up spending a month working alongside the owner Giancarlo, who taught me everything about the production of this type of Roman pizza."
The dough Shelley makes is from a special combination of flours imported from the town of Vicalvi, south east of Rome and has a higher percentage of proteins compared to standard pizza flour. The dough is kept in the fridge at a controlled temperature for a minimum of 72 hours (during which it is turned over and knocked back) before it's first used in baking.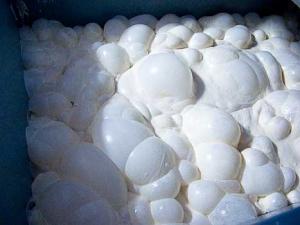 Letting us peek into a box of fermenting dough, Shelley proudly points to the bubbling vivacity of the dough, as well his monster mixing machine. 'That came from Italy along with the specialised ovens," he says cheerfully. 'The seller measured it all carefully to ensure it would fit through our door, except when it finally got here we found he hadn't included the protruding knobs in his measurements! It was either a case of cutting a massive hole in the restaurant floor and lowering it down to the kitchen, or totally dismantling it with no manual to refer to. So that's what we did – it took about half an hour to dismantle it and then about five hours to put it back together again," he says with a sigh.
So what about the pizzas? The shop is designed, in the true Roman fashion, for people to buy their pizza and be on their way, but there are also about 20 stools for stay in diners. We perched up in a corner, and as the pizza is sold by weight rather than size, ordered up a selection of Small tasters. Our Potato, mozzarella and rosemary was surprisingly good, surprisingly because who would have thought carbohydrate on carbohydrate would be a winner? The potato was thinly sliced and had crisped up nicely and the rosemary wafted through well. The Piccante used a topping of cherry tomatoes, which made it very juicy but although tasty it could have benefited from a bit more chili.
Tuna with mayonnaise, artichoke puree and artichoke hearts on a tomato base was getting there, but I don't like tuna on a pizza, it seems wrong to me. Anchovies? Oh yes please, but hold the tuna. Six tasters later though we were pretty full and pretty happy.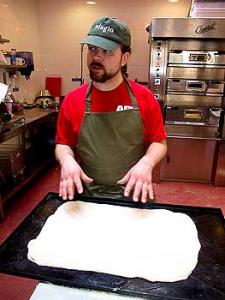 What stands out above at Adagio all are those bases; slightly chewy, full of air, crispy bottomed, they are absolutely perfect. You could eat them on their own quite happily. While some toppings were less successful than others, the majority were very good. All could have done with just a bit more seasoning though, we felt.
It's early days yet at Adagio, but they clearly have a great concept, and in Shelley the right man for the job. People were piling in to grab their slices of the action, carrying out their piping hot pizza and getting stuck into them almost as soon as they cleared the door.
'You can take these pizzas away and reheat them later," Shelley points out. 'The bases actually crisp up again perfectly." So we took some and I have to say he was absolutely right; back home they went down very well with the family. Mind you when I asked my dining companion J how his reheating had gone, he looked a bit sheepish. 'I couldn't resist,' he admitted ruefully. 'I ate all of mine cold on the Piccadilly line, half way home. It was lovely."