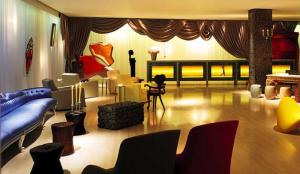 March, what is it about this month that seems to make itsuch a non-entity in the calendar year? It doesn't have the wacky 'guess how many days' like February does, nor does it have the pranks like April. It's a quickly forgotten month when actually a lot more happens than you think.
For starters, Mother's Day arrives on the 14th of March this year, so you have from now until then to plan your gift, (you have been warned). Sweet reward arrives three days later when everyone has the excuse, nay, the right to consume as much colourful Irish booze as possible and adopt a shocking attempt at an Irish accent on St. Patrick's Day.
Then, of course, there's the arrival of spring travelling at the speed of a third of a mile per hour, (it was on QI and thou shalt not question Stephen Fry). The downside is that we lose an hour because of having to set the clocks back. So, a gift for mum, the consumption strange things, spring colours and something to lift the spirits after losing an hour, is there a solution? Believe it or not, there is.
Sanderson have created an intriguing version of afternoon tea based around the theme of the Mad Hatter's Afternoon Tea Party, arguably the best choice of theme given what happened in Boston. The menu is fun, fascinating and flavourful. Traditional scones with clotted cream and jam are accompanied by vibrant sandwiches; including ham and English mustard on yellow saffron bread and smoked salmon with cream cheese on green spinach bread.
Sarnies and scones are great, but if there are no biscuits to dunk in your brew then what we really want is cake. This is, of course, no ordinary afternoon tea so the three cakes on offer each possess a peculiarity. The Queen of Hearts teacake melts in the mouth once the white chocolate and strawberry shell is broken. The Hazelnut and Passion fruit tart comes with a White Rabbit's pocket watch. A Chocolate Crackle Cupcake sounds simply wonderful.
Still want more? Of course we do, or at least I do as a voracious foodie. My gluttony is appeased by pineapple lollipops that turn tongues from cold to hot and mint chocolate chip lollipops that explode with a bite. There's also the option of enjoying The Mad Hatter's Afternoon Tea with a glass of Veuve Cliquot Champagne.
The menu ingredients and flavours will continually change according to seasonality. The Mad Hatters Afternoon Tea will be served daily from 2.30pm – 5.30pm beginning on March 1st running throughout the summer and is priced at £20 per person, unless you want to treat yourself to a glass of Moet champers, in which case the tea comes out at £29.50 per person. Given the splendor and uniqueness of the menu and the luxury of the location at the Courtyard Gardens at Sanderson in the West End this is definitely an afternoon tea not to be missed.
Sanderson Hotel 50 Berners Street, W1T 3NG.