214 Bermondsey Street, London, SE1 3TQ antico-london.co.uk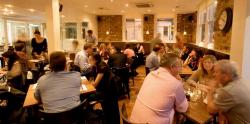 Come out of London Bridge station, stick your head back and look up the glistening flank of the Shard to where the point pierces the London sky. Blimey, it's impressive. That they built this beauty while the station was working as normal is even more impressive and now, with the construction diversions and heavy lorries all finally gone, the area is settling into its new role as cool central 
Bermondsey High Street is the main artery, a carnival of restaurants all down its length until it finally staggers out into the concrete wasteland of the approach to Elephant & Castle. Jose's is rammed of course; it looks like one of those 70's pictures of students cramming into a phone box for a bet. I swear one woman has her face crushed flat against the window while still eating a tapas.
No recession around here that's for sure, and even though Antico is right at the end of this food-laden street, it's packed out too. We have to literally squeeze in past people milling around looking to grab any vacant tables. This is why I like the deeply unfashionable reservation system; it means I get to eat when I want.
A harsh white light is tracked down to a camera filming for some show or other, but we're told it will soon be turned off and so it is. After we've stopped blinking is revealed a rather standard decor – bare brick, bare tables, open kitchen – which all combine to create a great deal of noise. Fair enough of course, this is not napkin dining.
Staff are young, and were pretty quick to deliver a plate of a focaccia resembling a thick chunk of sponge cake, plus Nocerella olives of a luminous green. Nowhere to put the stones though, which meant they piled up unattractively on the table as we sipped a surprisingly pleasant Prosecco with elderflower liqueur and lemon.
Someone should perhaps point out to the team at Antico however that if they're going to serve olives and focaccia as pre nibbles, there's little point in serving them again with the cold cuts. That apart the meats weren't bad. Just back from a marathon Jamon eating trip in Spain I found them a bit dull, to be honest speck has never really floated my boat anyway. P's haddock fritters were far more interesting, a decent bit of fish encased in crispy-ish batter. A kind of rough-cut tartare sauce livened up the fish, as did a colourful confetti topping of chilli.
Some people think pasta is passé, but personally I can't get enough. And, if an Italian restaurant can't do decent pasta what can they do? Of course in the old days I'd have eaten the pasta course and then the secondi as well, but it's a lot to eat and people give you funny looks if you try.
Antico served up a Slow Roasted Pork and Juniper Ragu Fazzoletti (handkerchiefs) that was a bit on the stingy portion size side, perhaps they genuinely intended us to go on to a secondi after all. Fazzoletti are little squares of pasta, often made from scrap pasta to save waste. These were fine, a little tough as if overworked at the kneading stage. Toughness is not the same as al dente of course; more cooking would have had little effect. The ragu was rich with the juniper's gin flavour a counterpoint to the pork. It left you wanting more, which can only be a good thing.
Slow-Roasted Pork Shoulder Tortellini with Sage Butter, yes more slow-roasted pork but why not, had rather excess pasta, I'd have trimmed closer to the stuffing if I'd been making it, but that stuffing was piggy-good and the slippery butter sauce made me happy and my shirt a disaster area. Again I could have done with a bit more. Maybe I'm the pig? Both dishes were the kind that have no visual fireworks, no clever constructions and that's a good thing – food is for eating not staring at wondering where your fork goes.
Tiramisu is another dish that the modern foodie tends to regard as suburban, but I like it. Antico's could have been more boozy. A tiramisu should go down like a strong drink, or a big glass of Baileys. Crema de Mascarpone, summer berries and croccante was fresh and rich, just right after pasta.
Service was how I like it; we were left to pour our own wine, which I hope was a house policy not an oversight. The mood overall is one of a place aiming to please the public not make a statement. Prices are reasonable and the people cramming in testament to things being done well.
Antico is not going to get the food twitchers excited, but as a reliable, affordable place for a decent lunch or dinner it's got the balance and the attitude right.