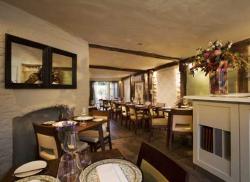 When Raymond Blanc declares that he's taken a bit of a 'shine' to a restaurant, you figure it's worth investigating. Artichoke, occupying a Grade-II listed 16th century building, reopened last December after a devastating fire. Following a painstaking 18-month refurbishment, husband and wife team Laurie and Jackie Gear have picked themselves up and quite literally dusted the tables down. In Head Chef Laurie's own words: 'It's been a massive struggle".
Having enquired and duly heard the full story from Jackie herself (restaurant opens in 2002; rave reviews leaving them on-course for a Michelin star; neighbouring building has electrical fault causing said fire; on-going battle to get the insurers to cough up as well as the unenviable task of having to woo back their fan base in the year of the Credit Crunch) and I immediately realise that even if I hated the place, I couldn't give it a bad review. As Jackie herself saw the place engulfed in flames (the police-driven security system alerted her by phone that it's possible there 'may have been a break-in"), she sped in, slipped past the fire rescue services and rescued their client database like gold dust. Now that's dedication. Add to this the wildly romantic notion that back in the day, the pair of them literally up sticks from Devon, running away to follow their dream of opening a restaurant…. Sky Real Lives would have a field day. In any case, I am in agreement with Monsieur Blanc; it's a real find.
Worryingly quiet when we first arrived (is there anything worse than enforced hushed tones in a restaurant?) it soon warmed up. By the time we left it was packed with an eclectic mix of well-heeled locals and a dubious older businessman with a confused-looking young blonde. I do like Old Amersham; despite the odd chain creeping in, it's one of those towns that seems to support itself quite deftly (movie buffs: remember the pub scene in Four Weddings…? That was filmed in The Crown on the High Street).
Artisan breads are cooked daily and, still warm, seemed to reappear on an 'all you can eat basis'. On one of the coldest nights of the year, gestures such as these are not to be underestimated. Starters included salad of breast of quail, ravioli of confit of quail with toasted hazelnut and parsley, watercress, and sage beurre noisette (nicely textured and a triumph of flavours) along with young beets, Shepton goats cheese, lemon thyme, and rye bread (fragrant, delicate and stunningly presented).
We greedily shared our mains: saddle of wild shot Chiltern venison, glazed pears, pontack, elderflower capers, savoy cabbage, roasted onion, and pumpkin gnocchi – here excitedly moving from one quarter of the plate to the next, pausing to give the venison, cabbage and gnocchi their deserved attention, all of which seemed to encapsulate those woody, wintry flavours our Winter '09 bodies were craving. And Dedham vale autumn lamb with potato cannelloni, creamed cauliflower, parmesan and truffle, roast aubergine, spinach, confit garlic – yum! Nothing to complain about here so we tucked-in, musing as to how chefs construct these dishes so perfectly. The meat was moist, the portions generous and each flavour enjoyed its moment. With local provenance intact, doubtless this could become a signature dish.
The only slight disappointment came with the desserts. After apparently strained attempts, the (admittedly new) Pastry chef was not happy with her pumpkin crème caramel and decided not to risk it. While some might be annoyed, I suppose I had to admire the perfectionism, honesty and sheer guts for pulling a desert like this. At the same time, I would have been intrigued by the combination of its accompanying 'candied fennel and beetroot sorbet'.
Another time, perhaps. In its place then came the hot prune and Armagnac soufflé. Quite one of the most decadent and punchy deserts I think I've ever tried. The Armagnac was sadly overdone, to the point of almost over-powering just about everything else I'd eaten, but I could see where it was trying to position itself within the menu. Points for trying. My partner duly had the pear and white chocolate galette with poire William sorbet – mainly because I made him (like me, he doesn't really do desserts). 'Hmmm, nice" came the response. And it was.
Artichoke is small in size, making for an intimate atmosphere. But don't be fooled; it's big on ambition. While the restaurant was closed, Laurie seized the opportunity to gain further experience and inspiration working with his peers, more recently with Rene Redzepi at the two-star Noma in Copenhagen. We left admiring Artichoke for its fighting spirit as much as for its food – but this is no sympathy review. To end with the words of Raymond himself:
'They are a young couple, they put all their money in and it goes up in flames. It is nice to see them fight on…it is one of the very best restaurants between London and Oxford."