Danielle Woodward steps into the world of Cuban-Asian fusion, and experiences the delicious results.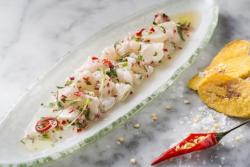 Walking through the doors of the St Martins Lane hotel and absorbing the calm, sparse interior after the bustle of central London, it feels like you've stepped into a different world – one with friendly, attentive staff who seemed genuinely happy to see us as they offered us cocktails and ceviche canapés, which went down a treat after a long day at work.
First launching in 1997, with restaurateur Jeffrey Chodorow at the helm, Asia de Cuba was inspired by the Cuban meals Chodorow enjoyed while growing up in Miami, and today, Cuban-born chef Luis Pous has revamped the menu, injecting a burst of creativity, while expanding on Chodorow's original vision.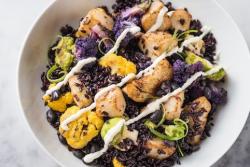 Havana is home to one of Latin America's oldest and largest Chinatowns; in the late 19th century, thousands of Chinese immigrants arrived to work on the plantations, and brought their knowledge and traditions to Cuban shores. Pous's menu is a creative take on what Asian-influenced Cuban food would be today if Cubans had been able to evolve their cuisine with access to different ingredients.
We start with Grouper Ceviche, with a Thai take on the original Cuban dish, traditionally marinated in olive oil, garlic and lime. Red onion replaced the garlic and a touch of heat emerged from the Thai chillies, with coriander, jalapeno and fresno peppers, finished with the crunch of a green plantain chip – a winning combination.
Then came the Shrimp Churros; I'd only eaten churros as sweet doughnut desserts before, but this reinvention turned that preconception on its head. These were savoury and inspired by prawn toasts, with a Thai coconut curry to dip them into before crunching them down in a couple of mouthfuls.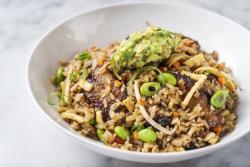 At this point, we decided to slow down, as we were told there'd be more food awaiting us – and how right they were. We were seated in the smart restaurant area, with black and white prints of famous Latin Americans adorning the walls, and the first course arrived soon after: a tuna tartare, with olives, coconut, almond and avocado in a crispy wonton base, followed by the salads – my favourite of which was the Crispy Calamari, mixing sweet and savoury with banana, chayote, cashews, and an orange-sesame dressing.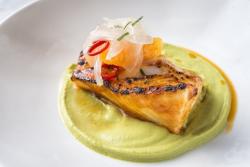 The ethos behind Asia de Cuba is to offer food for sharing – everyone is encouraged to dig in and try everyone else's dish, so you get a full experience of flavours. The Wok courses are ideal for this, and the Chilli Rubbed Scallops on a bed of black rice and black beans was so moreish, I kept helping myself to… well, more. The Rocoto Glazed Black Cod was a highlight for me; fish that melts in the mouth with a taste explosion of chilli, orange and avocado is a dish surely served in foodie heaven. And I really enjoyed the Seven Spice Chicken, cooked until just tender, on a juicy base of snow peas, shiitake mushrooms, creamy congri, and maduros. The presentation of the El Lechon was beautiful; Cuban slow-roasted pork with a selection of Chinese-inspired accompaniments, such as fried rice and black beans.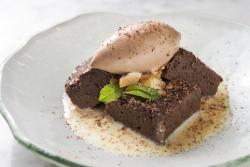 It can't get any better, I thought. Then the desserts arrived. The classic Latin American Tres Leches De Chocolate had a dollop of chocolate Szechuan peppercorn ice cream on top for a spicy, icy kick; while the Guava Whipped Cheesecake was so beautifully presented, it seemed a shame to destroy it with our spoons, but the light citrusy, creamy taste was so worth it. And Mexican Doughnuts with a choice of dolce de leche or Thai chilli chocolate sauces to dip them into, was the perfect finish. Resisting 'double-dipping' my doughnuts just meant I had to dip more in to make sure I'd experienced the rich sauces properly. What a hardship.
Just as people in the UK might have certain preconceptions of Cuba, its people and its culture, Asia de Cuba challenges that by combining flavours and ideas you never thought could possibly work together, leaving you with an understanding that speaks from your taste buds, of history, hardship and creativity – and how lucky we are to be able to enjoy this today. 
The full London Asia de Cuba restaurant menu is available to view here: www.asiadecuba.com/london/menus
Photographs by: Evan Sung