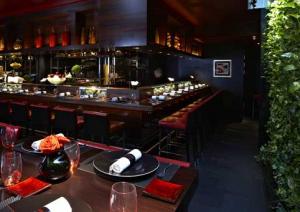 The last time I walked down West Street I fell over an enormous tuna. I was quietly ambling along brooding about Clare Grogan, as a lad tended to do in the 80s, and next thing I knew I was on the ground nursing a bashed knee. The tuna was unharmed although that didn't stop the kitchen staff, who'd put it down while opening their restaurant door, from letting loose a tirade of angry Japanese invective.
You see back then what is now L'Atelier de Joel Robuchon, was a very high end Japanese restaurant and club. So high end the menu outside was only in Japanese and the place was rumoured to hold wild karaoke parties for wealthy Japanese businessmen. We workers next door would push our noses to the blacked out windows hoping for a glimpse of the action, but apart from the tuna I never saw anything fishy.
So perhaps Joel didn't have to do too much to the décor when he took over in order to create his signature interior of black and red with Japanese style cues. It's sexy and alluring and you feel like a native New Yorker as you swing a leg creakily over a stool and face the open kitchen and its Gap style staff.
I hadn't been here before, which seems remarkably remiss of me, but I couldn't be arsed to ride the wave of hype when Joel first opened and then somehow I just forgot. Big mistake. From first dish to last chef Olivier Limousin delivered an evening to remember, in fact my mate J was still reliving it when I caught up with him in our office the next day clutching my usual Gregg's lunchtime bap.
J doesn't drink red wine; it sends him mental with migraine. We told the man behind the counter this sad fact and he smoothly and cheerfully amended the matching wines so that J would receive only whites. He also took on board J's point that any dishes that contained red wine would also be unbearable. No hint of exasperation, just beautiful manners and accommodation of our needs and that's what you pay for at these sorts of places.
And you do pay quite a bit here, although you can push the boat back in if you want to with just the pre-theatre deal. We wanted the works though and by golly we got them.
These multi-course menus are great fun to eat less fun to describe blow by blow. Especially when you're so busy enjoying them you forget to make enough notes. I know, I know, what an amateur I am. In my defence I still actually enjoy food and don't see it as trial by combat with the chef.
Let me tell you though that the scallop carpaccio was superb, a star anise was perched on the side of the plate not to be eaten but to point up the aroma of the fennel mousse. The lemon grass stalks were also there just to look pretty because only a Panda could eat one in its uncooked state. There was a crunchy thin base to the carpaccio, and it was delicately salty against the smooth scallop.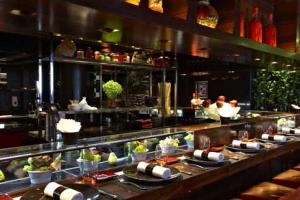 I don't normally believe in cold soup, but I believe in Joel's Gazpacho, a fizzingly intense distillation of tomato with beads of balsamic vinegar, wafts of basil and semi-submerged shards of almonds. Just the thing to reinvigorate the taste buds after the soothing scallop. It was followed by everyone's favourite, pan-fried foie gras on black cherries and with sumac. A range of textures and flavours with the sour sumac picking up the underlying tartness of the cherries and contrasting with the rich foie gras in a fun and playful way.
A little piece of gurnard with pissaladiere and sauce was less memorable while still enjoyable, but the meal peaked with free-range quail stuffed with foie gras and truffle mashed potatoes. Yes the truffle was barely noticeable, this must have been the last bit in the larder as the new season starts soon, but the quail was honey sweet, cooked by an angel and delicious.
Pre dessert of a 'lolly surprise' was amusing and then to add to the evening's entertainment the fire alarm went off just as we were finishing our Chocolate Tendance – Manjari chocolate, white chocolate ice cream and Oreo cookie crumbs- and the place was evacuated. Excellent timing. After a few minutes milling about outside the all clear went and we were allowed to climb to the glamorous top floor bar with its outside terrace for coffee and mini cakes under a clear London sky. With a cigarette too, bliss.
Why anyone would want to traipse out to East London to eat pompous self-indulgent food when Robuchon is in town is beyond me. At L'Atelier the balance of creativity with common sense and clear cooking skills is perfect, the room delightful, the matched wines inspired and the staff, even when wielding fire extinguishers, cool and solicitous. Thoroughly recommended.