Babbo, 39 Albermarle Street, London W1S 4JQ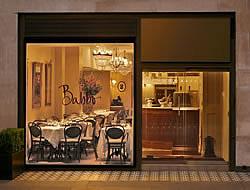 Like other humans, I repeat mistakes but why have I not learnt the hazards of random dining partners? Recessionary woes had driven me to accept the offer of a session from a 'career coach". I decided, smartly I thought, to combine it with a dinner at Babbo. Babbo is a swanky Italian restaurant in Mayfair, London. Its clientele resemble Nigella and Charles and its décor a palace of crystal, walnut fittings and gilt. I had filled out the forms P* had sent me about my aspirations. He was a former IT consultant at a multinational making a fortune, before he found his calling as a career counsellor and coach.
'Name all the things you've wanted to be and why," his forms said. At normally £90 an hour, I was naming. As he read my list – MI5 detective and librarian – he mumbled, 'interesting, interesting". We were drinking the fine 2007 Montepulciano D'abruzzo from Italy, a treacly mare with strong tannins hindkicking the palate afterwards. Drinking and waiting for the expertise. 'First I thought you were a star, then a lord. But now I think you're a mechanic," he said helpfully.
So we had starters. These, at around £12 each, were bread salad with tuna belly, lobster and San Marzano tomato (P's) and sea scallop medallions, lardo di colonnata and potato and leeks cream. 'It tastes like soggy bread, there's no standout flavour," said P while my scallop was a huge meaty paw of a thing, nicely-cooked, slight lemon crust and tang. The swirl of Mizuna and other leaves perked up both which were cute, if not the most original, in their presentation.
P had now informed me, in transatlantic drawl, that I was an F220 Darlik as a couple of lewd jokes slipped from his stubbled jaw. 'Ah!" he said suddenly, pouncing on the word 'research". 'I see you love researching! Think of all the happy times in your life that you have loved researching!" He grinned. 'You can tell me – people love to confide in me as I'm non-judgemental". He proceeded to reel off five negative traits of mine that were blasting my career progress. I asked how I could overcome these barriers. 'Christ, you're hard work," he muttered. A Bolton accent crept out.
So we took mains. Mine, Ossobuco Milanese-style for £26 was a cosy, homely delight, a saffron-flavoured and coloured risotto pooling next to the gooey, sticky, slow-cooked beef on the bone. 'Ossobuco" translates in Italian to 'bone with a hole" which indeed it was: obscenely rich and intense, the fats producing a gluey, heady mass of meat. P was unhappily eating sea bass with whole spring vegetables. While his looked a little dry and boring, the fish was beautiful with a hard, salty lid of a crust which impressed me though not Mr Grumpy.
'And now, the best part, my grandmother's favourite!" cried the overenthusiastic but lovely waiter. He handed me a tiny spoon with which to scoop out the marrow. I know this is a delicacy – but once I'd conned myself the product was not mammal, it tasted strangely like knobbly butter. However, the gremolata – orange rind, garlic and parsley sprinkled across my dish – was starting to grate and I had to stop before melted-cartilage induced nausea. Petit fours were a delightful clock face of peekaboos, a shortbread that melts before you have registered it, a delicate noisette. P's tiramisu had chocolate dust so fine I coughed. My three homemade ice creams looked like wet little eggs, milk, cardamom and pistachio beautifully tasty and planted on a nut gravel. We finished on a port whose aftertaste spelt cherries but by this stage, there was a standoff.
P was telling me he was in long-term therapy when I dared to unbutton my scepticism for the first time all evening – my doubts about Freud. 'I can't be arsed with this," said the non-judgemental, all-listening career coach, no longer grinning and confirming my long-held suspicions about the mental health of therapists. The erstwhile extra keen waiting staff had shrunk into a corner staring with pallid faces.
We left to 'Bravissimo, bravissimo, bravissimo, " – a woman heaping praise on the chef. Meanwhile, as P followed me outside, he squared his 5 foot 1 inch body up to my own petite-ish frame. 'Do you ever get angry?" he snarled and raised a short arm to strike me. Oh, vegetarian dining friends, come back, all is forgiven.
*P: not his real name, but close.