Unit 1032, Westfield Shopping Centre, Jom Makan, Southern Terrace, London W12 7GA. Balans.co.uk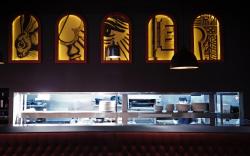 Balans is the bar that took my Pornstar Martini virginity and it seemed only fitting that it should also do the same to my best friend and dinner partner in crime for the night too.
Many years later, and the Pornstar Martini's are still top notch, but I was there to check out the new food menu, which I have to admit looked very inviting. Traditional pub favourites such as beer battered fish and chips and the infamous Balans burger grace the menu alongside gastro pub type dishes like Cornish crab linguine or slow roasted pork belly.
The new Balans Soho Society, launched misleadingly not in Soho, but in Westfield Shepherd's Bush has one simple instruction – indulge and enjoy oneself, and that is most definitely what I did.
Executive Chef, Crispin Chetwynd has done a marvellous job creating the likes of Chicken thrice-fried with shichimi mayonnaise (£6) and Wild Hare Pate with celeriac remoulade, quince jelly and toast (£7.50), the perfect starters to whet your appetite before the main event.
The rack of lamb for mains is cooked how you like it, with dauphinoise potatoes and redcurrant jus (£17). My friend opted for the pulled pork wrap, which at just £9 was a steal as it came bursting at the seams. Served with apple slaw and triple cooked chips that although didn't look like the best I'd seen, were crisp on the outside and super fluffy on the inside.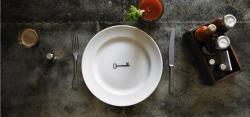 Desserts had been waltzing past us throughout the meal, and after seeing that the white chocolate cheesecake was the most popular choice; my dining partner opted for that. Judging from the noises she was making (think when Harry met Sally), I'd recommend you try some. I listened to our wonderful waiter for the evening Tom, who had not let me down so far and suggested that I go for the warm doughnuts served with a plum compotes and whipped cream…he even let me swap the cream for coconut ice cream, which I'd spotted on another interesting looking dessert.
The interior design has also had a refurb, capturing the heart, soul and spirit of the venue with every little detail catered for in a wonderfully quirky manner. Match boxes are cleverly given serving suggestions'for whatever sparks you up' and a key symbol is prevalent throughout the restaurant – splashed on the walls and even marked on the cutlery, keeping a common theme, which I'm told represents freedom to enter a world of pleasure…and if that tickle your fancy, I'm not sure what will!