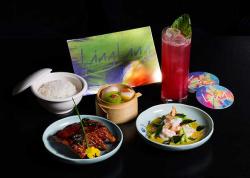 Hakkasan restaurants around the world including its two London locations, Hakkasan Hanway Place and Hakkasan Mayfair, are celebrating the launch of Ling Ling in Mykonos by featuring a taste of its cuisine with a limited edition menu and signature cocktail.
Located in the centre of the old town, and presumably unfazed by Greece's economic woes, Ling Ling will borrow from and subvert the key elements of Hakkasan with reinvented presentations of smaller plates to share and try a variety of Cantonese-style dishes. The bar is being invigorated with summer cocktails and a wine list from the award winning team in London. The sound design is being mastered and perfected by Hakkasan London resident DJ, Pathaan
Hakkasan Hanway Place and Hakkasan Mayfair will both feature three limited edition menus in which guests can select one: Fish and Seafood, Meat and Seafood and Vegetarian. The Fish and Seafood menu includes a Steamed dim sum platter of Scallop shumai, Har gau and Chinese chive dumpling, a Crispy aubergine and shitake salad with mixed cress and lily bulb, and a Grilled Chilean seabass in honey; while the Meat and Seafood menu includes the same Steamed dim sum platter alongside Jasmine tea smoked organic pork ribs and Spicy prawn with lily bulb and almond. The vegetarian menu offers Salt and pepper tofu and homemade pumpkin tofu, Stir-fry black pepper vegetarian chicken with sugar snap and Stir-fry baby broccoli and preserved olive with crispy seaweed and pine nut. In addition, Hakkasan Hanway Place guests will be able to sample the Ling Ling Collins, a new signature cocktail that will be served in the Mykonos location and Hakkasan Mayfair guests will be offered a glass of champagne.
The special menu at Hakkasan Hanway Place will be priced at £35 per person and will be available: Lunch: Monday to Friday from Midday to 3pm and Saturday Midday to 4pm
Dinner: Sunday to Wednesday from 5.30pm to 6.30pm and 10.30pm to11pm, and on Sunday from 5.30pm to 6.30pm and Thursday to Saturday 5:30pm to 6:30pm and 10:30pm to 11:30pm
The special menu at Hakkasan Mayfair will be priced at £45 per person and will be available: Lunch: Monday to Saturday from Midday to 6.15pm
Dinner: Sunday to Thursday from 11pm to 12.30am, and on Friday and Saturday from 11.30pm to 1.30am