Want to serve a healthier alternative to the usual chip n' dip at your next barbecue? Self-confessed crisp addict, Danielle Woodward, discovers some tasty options
Crisps, crisps, how I do love thee. So moreish, so tasty, so crunchy… and so very high in fat and cholesterol and all the other things that are bad for you! Snacking on a packet of crisps between meals is all very well in moderation and, to quote the advice printed on crisp packets,'as part of a healthy, balanced diet', but what happens if one munch leads to another and another and, before you know it, you've reached the bottom of one of those so-called'sharing' packs, with no help needed? Ahem. Yes, that would be me. I need to get my crisp-habit in check so, in the meantime, I look for some healthier alternatives…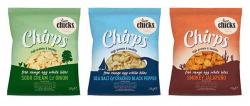 Chirps from Two Chicks, the company that brought liquid egg white in portable cartons to the supermarket shelves, is a'snack with the bite of a crisp that is high in protein and lower in fat and carbs'. Rice flour combined with egg white gives these crisp-alternatives a fantastic crunch and they are just the right size – think smaller Quavers – to enjoy between meals. Flavours include Sea Salt & Cracked Black Pepper, Sour Cream & Onion and Smokey Jalapeno – which was by far, my favourite. I like crisps with a full-on flavour (yes, I admit, I do hanker after pickled onion flavour Monster Munch even though I'm – ahem – years old), so to have a healthier alternative with a bit of spice was very enjoyable. My mouth was tingling and the flavour – with a combination of herbs including cumin, paprika, oregano and chilli – creating a satisfying flavour hit. The other variations were nice too – the Sea Salt one especially good dipped in houmous.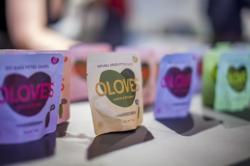 As a savoury snack, olives are a timeless and healthy classic. Opinion is divided between purists who prefer the olives pure and those who like to experiment with flavoured varieties. Having decided early on in my life that I didn't like olives, I avoided them and missed out. Now, I'm making up for it and new brand Oloves has introduced me to a new way to eat the tasty morsels. Cleverly packaged in small snack bags (30g) and bigger sharing packs (100g), the stone-free olives are green and black and come in flavours such as Chili & Oregano, Chili & Garlic, Lemon & Rosemary and my personal favourite, Basil & Garlic – so juicy and zesty, the snack pack didn't last long in my hands! At just 50 calories per 30g bag, Oloves' olives are a good alternative to high-fat crisps and tortilla chips, and look appealing displayed on serving dishes if you're entertaining. Otherwise, just scoff a bag by yourself instead of a packet of crisps, and feel smug and satisfied that you've enjoyed an all-natural snack that's so much better for you. Then try another one because, well, why not?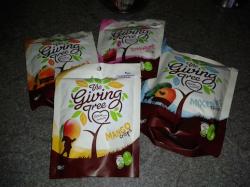 Snacks that also count as one of your five-a-day? Sounds good to me. But broccoli crisps? How could they be appetising? Actually, the range of freeze-dried and vacuum-fried vegetable and fruit crisps from The Giving Tree are really tasty. The method of cooking means the veg and fruit retains more nutrients, as well as antioxidants, minerals and fibre. The only ingredients in the broccoli crisps are broccoli and rice bran oil and surprisingly, it makes for a very tasty savoury snack. One for the kale-crisps brigade, if they're bored of kale crisps. Even good for children if you're struggling to get them to eat their greens. Instead of snacking on the freeze-dried fruit straight from the pack, I decided to sprinkle the strawberries and peaches on top of a home-made trifle as a finishing touch, and they worked well, providing a nice crunch and hit of flavour.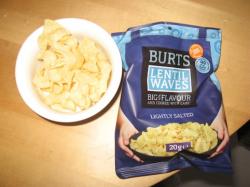 Lentils are more versatile than you might imagine – there is more to them than just bulking out a stew or adding fibre and protein to a casserole. Now, they can even be made crisp-like. Burt's Lentil Waves are a very moreish alternative to high-fat crisps and with flavours including Sour Cream and Chive, Lightly Salted and Thai Sweet Chilli, they will satisfy most crisp-lovers' cravings. Made from lentil flour and potato starch, the wavy shapes are ideal for dipping and at only 99 calories per 20g bag, they are a good diet choice too.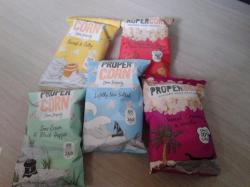 Last, but definitely not least, the diet-lover's favourite – popcorn. Flavoured popcorn seems to be everywhere lately – with lots of choice ranging from outrageously expensive gourmet flavours to simple sweet n' salty, depending on your taste. Propercorn was a brand I was particularly impressed with – reasonably priced for a bag, and with simple but delicious flavours, they definitely satisfied a between-meals crisp craving, without being a high-fat choice. Savoury flavours include Lightly Sea Salted, Sour Cream & Chives and Fiery Worcester Sauce and Sun-Dried Tomato, which has a fab, spicy kick that no pickled onion crisp can compare to (bye-bye Monster Munch). Sweet alternatives include the fragrant new Sweet Coconut & Vanilla, which is a great choice for that mid-afternoon slump when you want a sugar-hit that's also light on calories.
With so much tasty snacking available, I don't feel too hard done-by if I forego the tortilla chips and hand-cooked'posh' crisps for one of these healthier alternatives – it's the best option for my waistline anyway. Happy snacking!