15-16 Lendal Terrace, SW4 7UX  fumanchu.co.uk
Numerous surprises can be found in the railway arches of London. In Peckham, under Peckham Rye station, you can buy a handmade knife from a forge that produce just four to five a week. Near Brixton, you can watch current world and art house films at The Whirlwind Cinema under Loughborough Junction. And now, near Clapham North station, you can tuck into dim sum and sip cocktails in another arch-based offering.
Fu Manchu was a Chinese master criminal who, since his appearance in cult books written by Sax Rohmer in the early 20th century, has turned up in numerous films, TV programmes, comic books, radio shows and even inspired an eighties American rock band. It's also the name of this new this year late night venue.
Upon opening it promised to'bring a different kind of social experience to South London' which was both intriguing and annoying in equal measures.
"So you just circle what you would like on here and I'll be back," she said, smiling, before whizzing off to the bar. It was a Friday night and the place was reassuringly busy. Not packed, but there was a good few groups of drinkers dotted around and couples smiling at each other as clouds rose from the steaming baskets between them.
We scanned the menus for a while, picked a selection of both steamed and fried dim sum, then, as instructed, filled in our form just as our drinks arrived.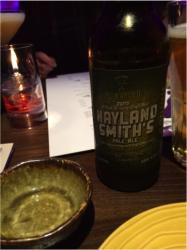 My Nayland Smith's Pale Ale, with an added hint of lemongrass and lime leaves created especially for the restaurant, started the meal well. Upon ordering I wondered it would be another write-off, overly sweet novelty beer, but it wasn't. Not at all.  My accomplice opted for a Lady Jasmin cocktail based on Bombay Sapphire with Cointreau, lemon juice, Jasmin syrup, egg white and bitters. It was sweet, floral and light.
There's something dark, dingy and relaxing about most railway arch venues and I'm glad to report Fu Manchu is no different. Even with its sharp spot lights and smart furniture, the bare brick walls make sure you don't forget that at any time an Overground train to Highbury & Islington might rumble over above your head.
Dim sum came quickly with minimal attractive presentation. Salt and pepper chilli squid wasn't overly crisp, but the squid itself was cooked nicely. A garnish of chillis, coriander and spring onion was simple and kept things pretty.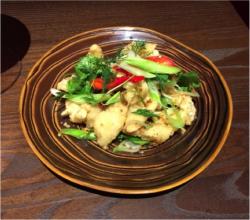 Honey barbecue pork puffs were everything I hoped. Light, flaky pastries filled with sweet, sticky pork. My kind of dim sum. Dumplings also didn't disappoint, the lobsters, prawn and bamboo, or Lung Har Gau, an expensive choice but one that really stood out at the table.
Xiao Long Bao exploded with great flavour in the mouth and sesame prawn toast did everything it needed to. Even if it wasn't with the same style as other dishes.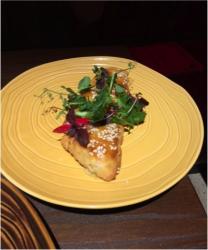 Time slipped by, and the music volume crept up, until Fu Manchu had morphed from a dim sum restaurant into more of a late night drinking spot. A den of young, middle class, Clapham-ites that would more likely end up shoveling down a kebab a few hours later than discussing the merits of a good Toju Jai Bao.
This change, I presume is the'different kind of social experience' I'd been told about.
Would I have done the same if in charge of a dim sum joint in South West London? Maybe not.
Would I return for those honey barbecue pork puffs and a few bottles of that Nayland Smith's Pale Ale? Most definitely.
Feeling a little more patriotic? See what happened when Nick cast his net towards a fish and chips place in Brixton.